Top LGBTQ+ Books That Everyone Should Read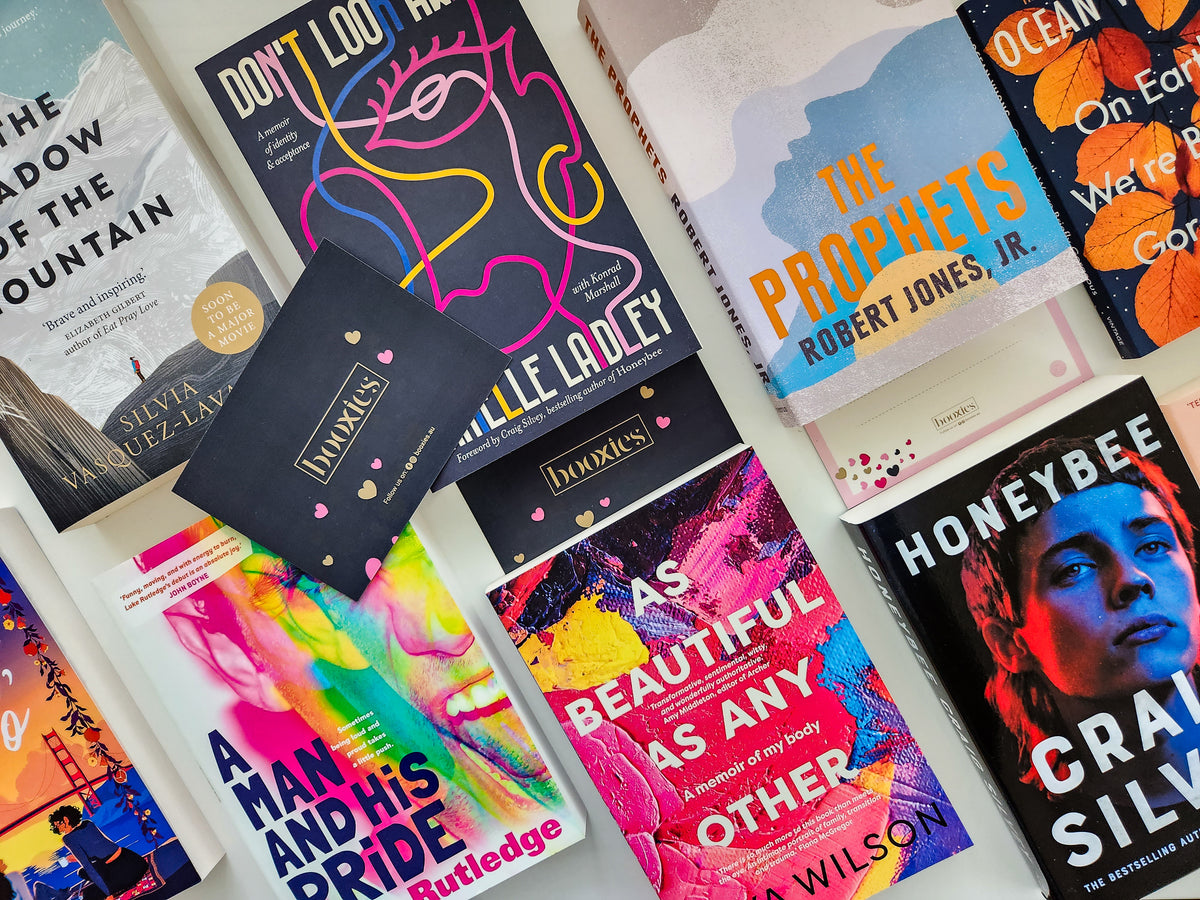 Mardi Gras is one of Australia's most famous and well-loved events. It all began on a cold winter's night in 1978, when the police descended on a street festival bravely celebrating gay rights when homosexuality was still illegal. You can see the full story here if you like to know more.
At booxies, we like to celebrate our differences and diversity with books. So we compiled a list of our favourite LGBTQ+ books that we believe everyone should read. These books and a lot more are all available at booxies and can be purchased with our very carefully selected beautiful Australian products to enhance your reading experience. Booxies can be the perfect gift box for a loved one or a self pampering book box for yourself to help you enjoy some needed Me Time.
So let's get to the books part:
We are not supposed to judge a book by it's cover.. but please look at this gorgeous cover! 

Kaya's memoir is brave, powerful, important and raw.
He definitely brought us much closer to understanding what goes into such transition; The trauma, the changes to your body, the outrageous financial cost, the emotional toll on yourself and your entire family, the rejection, the grief and at the end the celebration of finally becoming who you want to be which makes it all worth it

Kaya talks about many other interesting things in his memoir including a near death surfing accident which must've been terrifying.
We enjoyed it with cheeky G&T and Gin infused chocolate


On Earth We're Briefly Gorgeous is a letter from son to a mother who cannot read. Written when the speaker, Little Dog, is in his late twenties.
" It's a beautiful country, she's been told, depending on who you are."

A beautifully written, powerful, moving, and brutally honest novel about the undeniable love between a single mother and her son, about race, class, trauma, violence, and masculinity.. and more 💙

"Because freedom, I am told, is nothing but the distance between the hunter and its prey."

Loved its honesty and rawness 💕 shattering and haunting, and it will stay with us for a long time.
Not a new one but a book that stays with you for a very long time. It's painful but at the same time also so beautiful.. Its heartbreaking but full of resilience and hope.
A story of how unfair and challenging life can be to some, which makes you angry at this world then you get that load of strangers' kindness and pure love to change your whole perspective again and restore your faith in humanity.

It's one of those books that you don't want it to end. We actually felt a bit of grief when it ended after spending so many hours knowing Sam and Vic and everyone else. Knowing their deepest darkest secrets and also sharing their happiest moments and their most powerful moments.

You truly feel like you have lost a friend after you finish a good book like Honeybee
Highly recommended but be prepared to have some tears. All kind of tears. It can get a bit heavy but it's totally worth it 🖤
Check out our quick conversation with Craig Silvey to get to know him more and meet his new book.
An uplifting and deeply moving gay novel by an exciting new Australian voice in fiction.
Set in Brisbane during Australia's 2017 same-sex marriage plebiscite, A Man and His Pride is an exuberant and deeply moving story that celebrates some of the many ways to be gay, and shows that finding your pride is a journey – one you cannot take alone.
Sometimes life can be hard – until the right person shows you the way.
Don't look away is a moving memoir of identity and acceptance.
For the best part of five decades, within a hyper-masculine sporting environment, Danielle Laidley harboured a secret. As a boy growing up in the backblocks of Perth, as a teenager and young man playing AFL, as a married father of three, she knew she was female, regardless of the gender she was assigned at birth.
This is an unflinching account of what it's like to know you don't fit the body you were born into, and the desperate measures taken to mask the fear of being outed, of losing those you love. It's also an uncensored behind-the-scenes look at elite football from the perspective of player and coach, where Danielle is both participant in and analytical observer of her double life.
We loved reading this book with award winning cocktails from our friends at Curatif and delicious hand made chocolate from Hey Tiger
A story about music, dreams and love between two boys. A love letter to friendship and indie rock.
When artistic and sensitive Santi arrives at his new high school, everyone in the wildly talented marching band welcomes him with open arms. Everyone except for the prickly, proud musical prodigy Suwa, who doesn't think Santi has what it takes to be in the band.

But Santi and Suwa share painful pasts, and when they open up to each other, a tentative friendship begins. And soon, that friendship turns into something more. 
Will their fresh start rip at the seams as Suwa seeks out a solo spotlight, and both boys come to terms with what it'll take, and what they'll have to let go, to realize their dreams?
Destination Unknown by The Stonewall Award Winner Bill Konigsberg was our YA book choice for November Mystery Subscription Booxies which was sent out with Tasmanian Raspberries sparkling water from Calm and Stormy and Summer In The City chocolate from Hey Tiger

In Destination Unknown, Bill Konigsberg returns to a time he knew well as a teenager to tell a story of identity, connection, community, and survival.

a remarkable, funny, sexy, heartbreaking story of two teen boys finding each other in New York City at the height of the AIDS epidemic.
There are many other amazing LGBTQ+ books that we love and you can find our full collection here.
It's no secret that we love books and can't stop talking about them but we also know they are a great gift to your loved ones or simply to yourself. There is no better escape and no better way to expand our horizon than with a book.
Give a friend a gift that will stay with them for a very long time. A book or two of your choice with selected hand made chocolate - because let's face it who doesn't love a piece of delicious chocolate while reading - then add a bottle of wine from one our favourite Australian wineries or bath brew from our friends at Addition Studio.
If you prefer an alcohol free gift, we also have a wide range of alcohol-free drinks to choose from. Starting with organic botanical wine from Altina to cold brew sparkling coffee with a hint of caramel and anything in between.
Check out our pre-selected curated booxies gift boxes if you want something quick but yet very thoughtful. Or build your own booxies box if you like a more personalised box with up to 2 books and up to 3 products of your choice.
Leave a comment