Conversation With Craig Silvey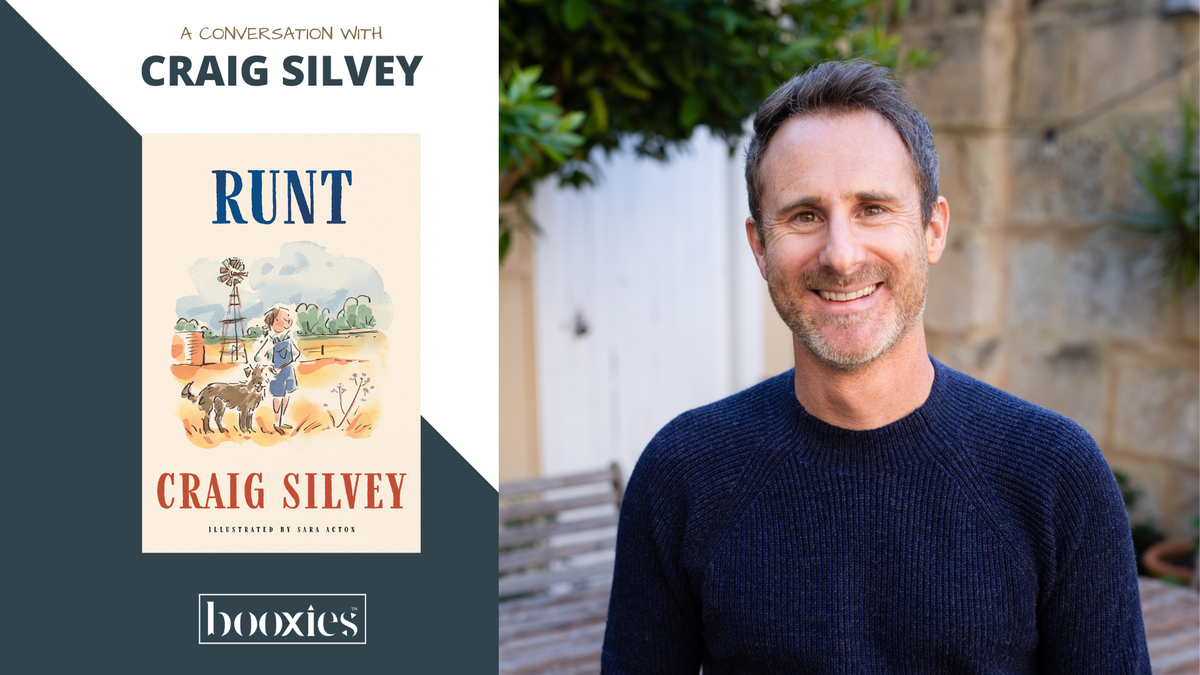 We've had the privilege to have a quick conversation with one of our favourite Australian authors Craig Silvey after the release of his new book Runt
Runt is a book for all ages that we read in one go. It is such a delightful heart warming book that everyone should read. We enjoyed reading it while cuddling our hardest working member of booxies Olive - Who we admit her only trick is to sit and give us a paw so really nothing like Runt - and while sipping some coffee and savouring the delicious 'Best Mates' handmade chocolate from Hey Tiger as we always do. Because there is no bester mate than your furry friend.
Can you describe your new book Runt (your elevator pitch)? 
CS: Runt tells the story of Annie Shearer and her best friend, an adopted stray dog called Runt, who try to save their family farm by competing in the Agility Course Grand Championship at the Krumpets Dog Show in London. 
Who did you come up with first? Characters or plot? 
CS: Character. Always. 
What part of the book was the most fun to write? 
CS: I genuinely enjoyed working on every scene of this book, but I certainly took the most delight in writing Fergus Fink, who is Annie's arch-nemesis. 
What character in your book is most similar to you? 
CS: Annie and I are quite similar in many ways. She's perceptive, comfortable in her own company, a bit of a worrier, and I share her desire to want to fix things. We also share a fascination with natural history. To Annie's way of thinking, every species is equipped with a particular set of skills that help them navigate their environment - and no matter how odd or obscure, those characteristics give every creature a place and a reason to be themselves. Everybody has their own purpose, no matter how unusual, and more often than not, it's something to be celebrated. I believe that too. 
What's your favourite recent read? 
CS: I loved Nothing Bad Ever Happens Here by the incomparable Heather Rose.
What's your favourite writing/reading snack or drink? 
CS: Black coffee. All day.
As a writer, what is your spirit animal? 
CS: Great question. As a writer, I'd assert that I'm a bit of a bowerbird in the sense that I'm obsessive, artful, tireless, rarely satisfied, at the mercy of a grand vision often beyond my ability, constantly collecting things that might prove useful, and, clearly, I have an unquenchable desire for attention and praise!
If you could invite a celebrity to dinner, who would that be?  
CS: David Attenborough.
Runt is available online at booxies and perfect gift for your book lover friend with anything really, but we really enjoyed it with Best Mates Chocolate from hey Tiger and cafe latte using our organic coffee beans. It is also perfect with hot chocolate from Cuvee to bring you warmth inside and out.
Build Your Own book gift box now with a book of your choice and the Aussie drinks and snacks you enjoy the most. Or make someone's day by sending them a carefully tailored gift box to their doorstep.
----------------------------------------------------------------------
About The Author:
Craig Silvey is an author and screenwriter from Fremantle, Western Australia. His critically acclaimed debut novel, Rhubarb, was published in 2004. His bestselling novel, Jasper Jones, was released in 2009 and is considered a modern Australian classic. Published in over a dozen territories, Jasper Jones has won plaudits in three continents, including an International Dublin Literary Award shortlisting, a Michael J. Printz Award Honor, and a Miles Franklin Literary Award shortlisting. Jasper Jones was the Australian Book Industry Awards Book of the Year for 2010. Craig's third novel Honeybee was published in 2019 and won Best Fiction for the Indie Book Awards 2021 and Dymock's Book of the Year 2020.
Leave a comment