Converstation with David Knoff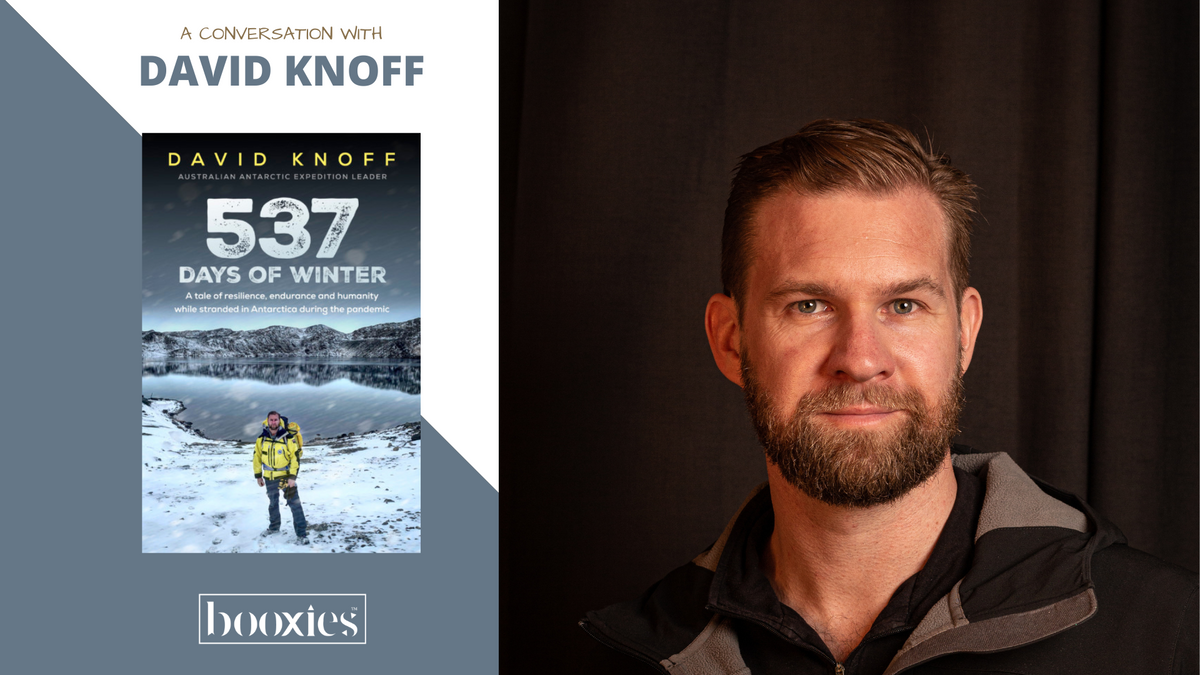 We had the privilege to have a quick conversation with The Australian Antarctic Expedition Leader David Knoff the author of 537 Days of Winter which was our Non- Fiction book pick of the month for September Mystery Booxies – Our book subscription box.
It's a great story full of lessons of resilience and leadership while being stranded in Antarctica. Perfect next to the fire in the comfort and warmth of your own home while sipping a glass of neat whisky from Starward or while hugging a mug of hot chocolate from Cuvee. The perfect gift box for your dad and a great corporate gift idea too.
Can you describe your book 537 Days of Winter (your elevator pitch)?
DK:
Have you ever imagined what it would have been like to skip 2020? What  if you were running an Antarctic station on a routine expedition when the pandemic broke out and your ride home was cancelled, indefinitely… That's what 537 Days of Winter is about, and that's just the beginning as it goes from bad to worse as the year drags on and goes far beyond anyone ever imagined. 
What was the hardest part of writing this book?
DK: Telling the right story. This is a true story and making sure I was telling the right version of it was tough, as the Station Leader I obviously had my own version of events but was aware I'd be (naturally) a bit biased, so right from the start I was sending sections to other members of my team and technical experts to make sure it's as accurate as possible and where I was wrong or there were two versions of the story I've included it.
Was there a specific moment that you realised you need to write a book about your experience?
 DK: Yes, without giving away the ending too much (spoiler, I survive), but on the journey home we had a shipboard emergency and as I stood there getting ready to board the lifeboats I remember thinking 'This would all make a great book on day'.
What's your favourite recent read?
DK: Currently reading 'The Consul' by Ian Kemish. I also worked for Foreign Affairs but never in the consular teams so it fascinating to learn about diplomatic life from a different angle.

What's your favourite writing/reading snack or drink?
DK: A good friend once advised me, 'Write drunk and edit sober' so naturally writing with wine or whiskey and then editing the next morning with coffee. The other good companion was exercise, often when I got stuck with how to write a section or scene I'd go for a run, no music, just my thoughts and by the time I got home I'd have worked out how to write it.
What was the one thing you missed the most while being stuck in Antarctica?
DK: Besides my friends and family, I really missed the anonymity of life back home. On station we all knew each other and its hard for anyone to find peace and quite so once I was home I really appreciated the quieter moments in life.
What is the one thing you miss the most about Antarctica?
 DK: The wilderness. From the wildlife to the icebergs, no photos or stories can ever do it justice when you see icebergs rising like mountains out of the ocean and the abundance of penguins, seals, whales and bird life that live in and around Antarctica.
If you could invite a celebrity to dinner, who would that be?
DK: Taika Waititi and Chris Hemsworth, so I can pitch them the movie rights to the book.
Limited number of signed copies of 537 Days of Winter is available at booxies. and it is perfect memorable corporate gift idea in one of our signature gift boxes with Melbourne's Starward whisky and hand crafted chocolate from Cuvee, or for a 'softer' option, with dark hot chocolate from Cuvee or Melbourne tea from Teadrop Tea. Get in touch with us on hello@booxies.com and let us help you with corporate gifting this year
-----------------------------------------------------------------------------------------
About The Author
Born and raised in Melbourne, Australia, David's career has taken him across the globe. Graduating from Monash University with a Bachelor of Arts (History, Politics) while completing officer training in the Australian Army, David then served in the Solomon Islands as an infantry platoon commander in 2007. 
Following this, he joined Australia's Department of Foreign Affairs and Trade (DFAT), serving at the Australian High Commission in Islamabad, Pakistan, from 2012 to 2015, and the Australian Embassy in Baghdad, Iraq, in 2016, embedded with Australian and coalition troops. 
In 2019, David joined the Australian Antarctic Program as station leader at the Davis research station, East Antarctica, and led the team at Davis through the longest continuous Australian expedition in modern history. After returning to Melbourne in 2021, just 9 months later David returned to Antarctica as the Voyage Leader to resupply Australia's Mawson and Davis station. 
Leave a comment