Conversation with Melissa Doyle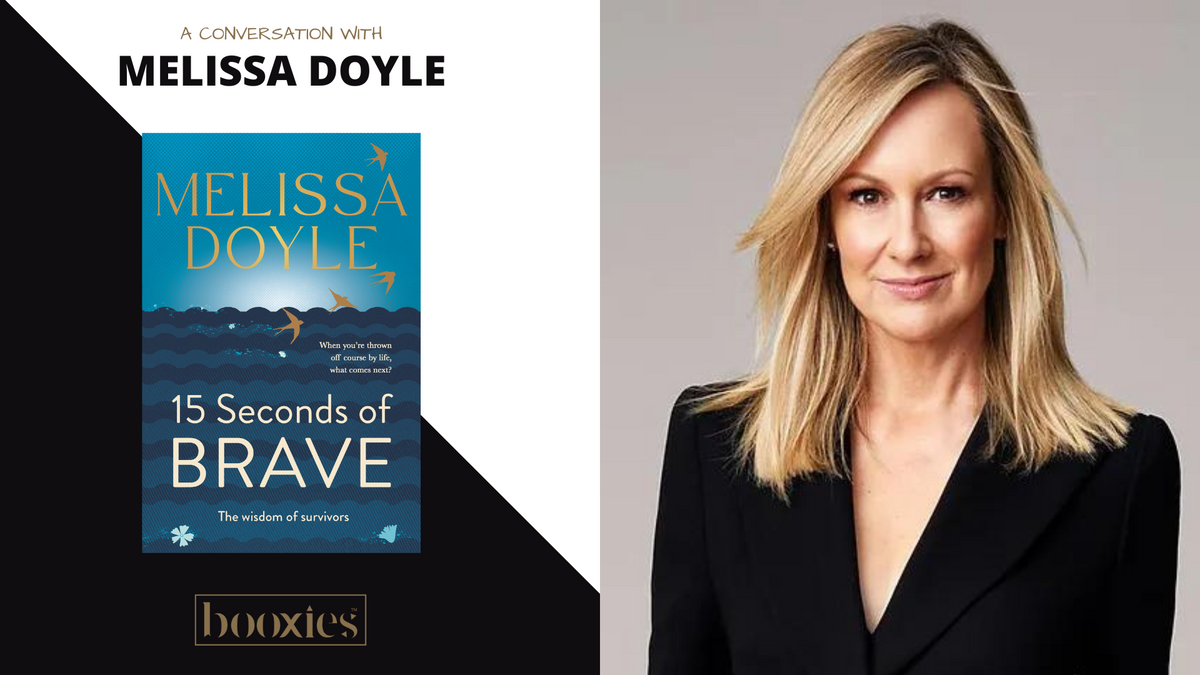 15 Seconds of Brave by Melissa Doyle was our non-fiction book pick for our subscription book box, Mystery booxies for January 2023. It's a collection of incredible stories from extraordinary survivors that we can all learn from. 
We had the privilege to have a quick conversation with Melissa to learn more about the book and few fun things about Melissa.
15 Seconds of Brave can make a great gift for all occasions. it will be perfect with G&T and gin infused chocolate (read longer and you will know why). or with relaxing herbal tea from our friends at Teadrop Tea for a more relaxing evening read.
Can you describe your new book 15 Seconds of Brave (your elevator pitch)?
MD: It's a collection of stories about people who have endured extraordinary experiences and what they can share with us about bravery, survival and finding strength when you need it most. I felt we needed some hope and inspiration after the last few years.  
You had to relive other people's worst days with them while writing this book. Was that tough? Was there any particular part that was the hardest?
MD: My duty of care to every person in this book was paramount. Some of the interviews I did over a 12 month period, and only on days when they felt up to talk about it. Many interviews were postponed when my talent wasn't having a good day or didn't feel up to talking about things.
What's the most important take/ lesson from 15 Seconds of Brave?
MD: That we all have the power to choose how we handle something. We don't always have the power to control what happens to us, but we can choose how we frame it and move forward. Sounds easier said than done I know. But if Grace can say she wakes up and chooses to be happy, if Kat can reimagine the horrid hand her boy has been dealt, if Danny can choose to forgive, then I hope we can learn a little something from their attitudes.  
How do you personally find your moment of brave when you're experiencing tough times?
MD: First of all, there is nothing I have endured that even comes close to any of my subjects, but I also think its important we never compare our tough times to anyone else's. Its all relative. When you're going through it, its all consuming, irrespective of what anyone else is experiencing.
But during any of the more challenging moments in my life, I try to remind myself what I do have. And I call upon my family and friends if I need a little extra support.
What's your favourite writing/reading snack or drink?
MD: When writing it's a coffee. I work best in the morning.
And when reading it might be a cheeky little G&T. I love sitting outside and reading on a Sunday afternoon
What's the best book you've recently read?
MD: I can never pick a favourite! I enjoy most things I read for one reason or another so I'd be a hopeless critic! I just finished 'Pineapple Street' and really enjoyed it, same with 'Before You Knew my Name'. I'm currently loving 'Lenny Marks gets away with Murder'.
As a child, what did you want to be when you grew up?
MS: A vet for about 5 minutes until I realised I was too squeamish, then a journalist from about the age of 12.
If you could hang out with any cartoon character, who would you choose and why?
MD: Snoopy. Who doesn't want to hang out with their dog all day.
If you could be guaranteed one thing in life (besides money), what would it be?
MD: Love
15 Seconds of Brave is available at booxies and can make the perfect book gift box for any of your loved ones or for yourself. Not a G&T fan? Enjoy it with a bottle of wine from one of our favourite wineries and some delicious handmade chocolate. or get with one of our vegan gift boxes. 
 ---------------------------------------------------------------------------
About the Author
An accomplished and awarded journalist with more than 30 years experience, Melissa is one of the best-known and trusted voices and faces in Australian media. 
A graduate of Charles Sturt University with a degree in Broadcast Journalism, Melissa began her career in Canberra as a television news reporter and weather presenter at WIN TV  before moving to Prime TV as a reporter and co-host of the evening news. In 1995, Melissa joined the Seven Network in the Canberra bureau at Parliament House before moving to the Sydney newsroom.
Melissa joined Sunrise in 1997 and co-hosted Australia's favourite breakfast program until August 2013, taking it from humble beginnings to Number One.  
During that time Melissa covered such significant events as the Beaconsfield mine disaster, the Royal Wedding of Prince William and Catherine Middleton, Olympic Games in Sydney, Athens, Beijing and London, the Queen's Diamond Jubilee, the Queensland floods, Victoria's Black Saturday bushfires, multiple federal and state elections, the Inauguration of Barack Obama and the election of Pope Francis, and interviewed stars such as Tom Cruise, Justin Bieber, Robin Williams, Jane Fonda and Katy Perry.
Leave a comment