The Best Sports Books For Dad This Father's Day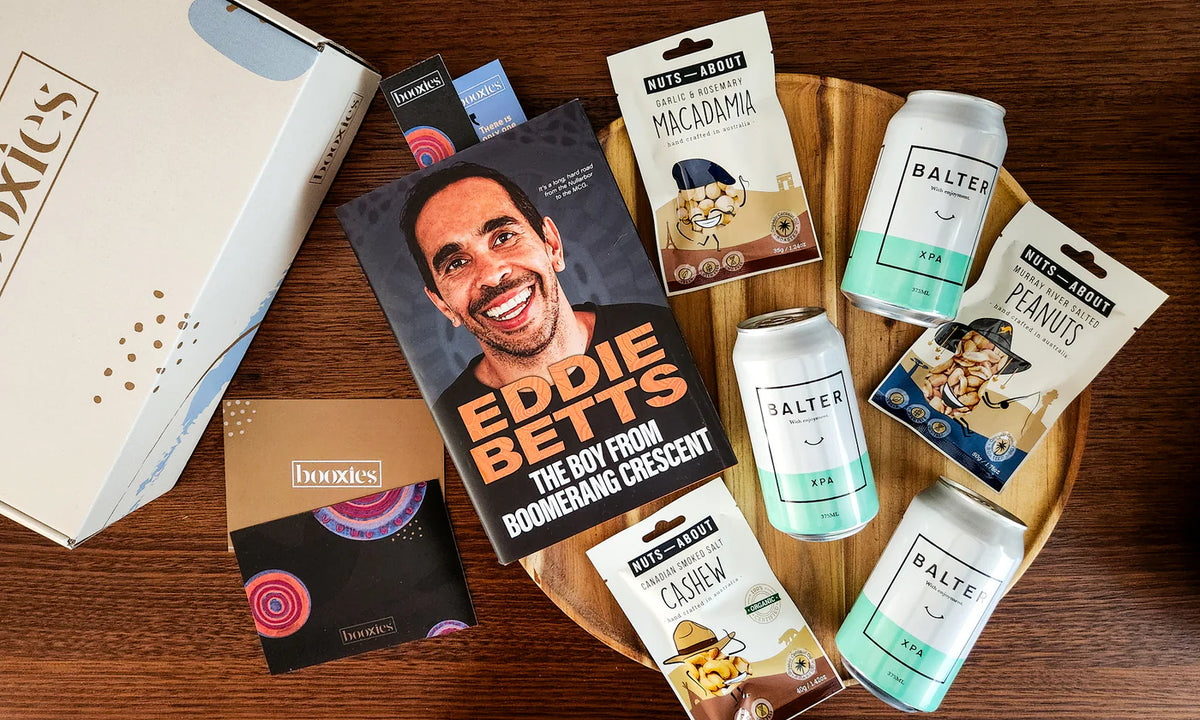 If you're looking for the best Father's Day gifts that reflect your dad's passion for sports, look no further! 
We've compiled a list of inspiring sports books that are sure to make his day even more special. From the heartwarming journey of AFL legend Eddie Betts to the cricketing brilliance of Shane Warne, the basketball legacy of Kobe Bryant, the captivating tales of surf champ Mick Fanning and soccer icon Sam Kerr's journey to stardom, these books celebrate the dedication and spirit of athletes. 
Whether your dad is a die-hard fan or just loves a good story, these Father's Day presents will definitely hit the mark.
This one is for all the footy dads out there! The inspiring story of Eddie Betts from being a  self-described 'skinny Aboriginal kid'  to overcoming a legacy of family tragedy to eventually become an AFL legend? One thing's for sure: it's not easy. 
This inspiring story is set to be the perfect Father's Day gift for dad if he's an AFL superfan! 
This one is the ultimate present for dad this Father's Day, No Spin is the last word on Shane Warne's extraordinary cricketing career and his life off the pitch – the perfect thing for Aussie dads everywhere!

A sporting great, a celebrity, a family man and a self-confessed regular Aussie bloke from the suburbs, in No Spin Shane offers a compelling insight into how a boy from Black Rock changed the face of cricket forever. Trust us, your dad will love this! 
Kobe Bryant is a basketball legend and The Rise is a fascinating look at his early life and how he became regarded as one of basketball's greatest ever players that would make for the ultimate Father's Day present!
Beyond a mere basketball book, it's an exploration of the making of an icon and the effect of his development on those around him. Perfect for basketball loving dads this Father's Day.
Follow Sam Kerr's incredible journey from playing Aussie Rules as a kid to becoming one of the world's greatest athletes as she prepares to captain the Matildas in the FIFA Women's World Cup.
An inspirational tale that follows Sam Kerr on her journey to the FIFA women's World Cup, the perfect book for dad this Father's Day if he's a soccer fan or he's been following the Matildas journey!
An inspirational tale of overcoming the odds to become world champ. This biography follows surf legend Mick Fanning, and his journey to legend status. 
His journey has been a mixed bag, but it is the extremes of that journey that make him so interesting, and his readiness to learn from each experience and use it as fuel to drive him on. The perfect book for dads that love to be out in the water!
From Andre Agassi, one of the most beloved athletes in history and one of the most gifted men ever to step onto a tennis court, this is a beautiful, haunting autobiography, perfect for dad if he's a tennis lover or he's looking to get inspired. 
With its breakneck tempo and raw candour, Open is sure to be read and cherished for years by dad. A treat for ardent fans, it will also captivate dad's who know nothing about tennis! Like Agassi's game, it sets a new standard for grace, style, speed, and power.
These handpicked books offer an intimate glimpse into the lives and struggles of sporting legends, making them the perfect presents for any sports enthusiast. Don't miss the chance to show your appreciation with these exceptional Father's Day gifts!
You can add any of these titles to your Father's Day book gift box with our
'Build Your Own Booxies'
, select your favourite title and then fill the box with all of dads favourite snacks and drinks! The perfect Father's Day gift is right around the corner!
Leave a comment