September Mystery Booxies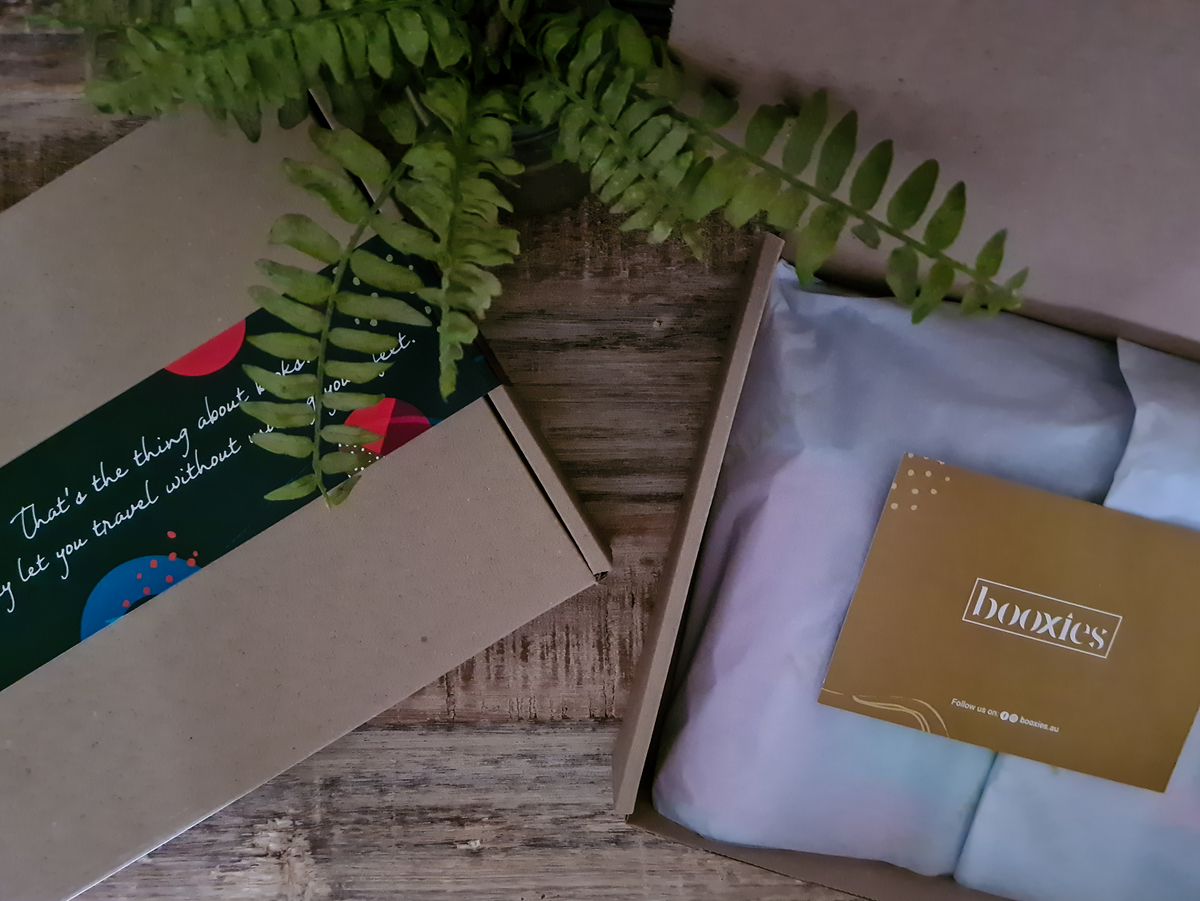 Mystery Booxies is a monthly or bi-monthly book subscription box that sends you a surprise book based on your preferred genre. You can also choose to receive a boxless booxies, which is a book that is not wrapped in a box and includes a signature bookmark, a pyramid teabag, and a greeting card.
Mystery Booxies is a great way to discover new books and authors, and it is also a thoughtful gift for book lovers. 
Our September book picks for the Myster Booxies book boxes are:
Non- Fiction/ Biography Book of The Month
Wifedom is a biography of Eileen O'Shaughnessy, the first wife of George Orwell. Funder uses newly discovered letters from Eileen to her best friend to reconstruct the Orwells' marriage, from their early days in Spain during the Civil War to their later years in London during the Second World War. The book explores the challenges of being a wife to a famous writer, as well as the ways in which Eileen's own work and creativity were often overlooked. Wifedom has been praised for its originality and its insights into the dynamics of gender and power.
Wifedom is a powerful and thought-provoking book that sheds light on the hidden lives of women. It is a must-read for anyone interested in gender, history, or biography.
 Fiction Book of The Month
At the Foot of The Cherry Tree is a debut novel by the Australian author Alli Parker, a stirring story of love and hope, based on the incredible true story of Australia's first Japanese war bride and a love that changed a nation forever.
We are lucky enough at booxies to get our hands on few signed copies by the author Alli Parker.
A sweeping story spanning seven years and two countries reeling from the aftermath of war, At the Foot of the Cherry Tree is a powerfully moving novel about faith, trust, and the power of a love that alters history - written by Gordon and Cherry's granddaughter, Alli Parker 
Crime/ Thriller Book of The Month
The Whispers the second novel by Ashley Audrain. The story follows four women in a wealthy neighbourhood whose lives are upended by a tragic accident. As the women try to piece together what happened, they begin to suspect that one of them is not who she seems. The novel explores the dark side of motherhood, friendship, and envy, and it has been praised for its suspenseful plot and its complex characters.
The story explores the themes of motherhood, friendship, envy, and the dark side of human nature.
If you are a fan of psychological thrillers, then The Whispers is a must-read. It is a well-written and suspenseful novel that will keep you guessing until the very end.
Romance Book of The Month
he Five-Star Weekend by Elin Hilderbrand is a story that follows Hollis Shaw, a food blogger who invites her four best friends from different stages of her life to Nantucket for a weekend getaway. The weekend is supposed to be a chance for Hollis to reconnect with her friends and forget about her troubles, but it quickly turns into a roller coaster of emotions as old secrets are revealed and new relationships are tested. 
The book explores the themes of friendship, love, loss, and self-discovery. A heartwarming and funny novel that will make you feel good.
YA Book of The Month
Squid Game at an American High School - the twisty YA thriller by Joelle Wellington. Twelve girls. Three rounds. One ultimate prize . . . for the last one left alive.
Edgewater Academy is a school for the very rich and very powerful.
Adina Walker is neither of those things. Alone and outcast, when she gets into a fight with a fellow student (and former friend), her scholarship to a top college is revoked, and her world falls apart. Until she's invited to The Finish.
Horrific and engrossing in equal measure, THEIR VICIOUS GAMES is also a thoughtful and clever commentary on race and class. Ace of Spades meets The Inheritance Games, this is a game you'll want to see through to the finish.
Products of The Month
Ready to Drink Whisky Cocktail from Starward
It's the new way to Whisky by our friends and Melbourne's own Starward. These cans come in three different flavours : Tonic and Juicy Ruby Grapefruit, Ginger Beer and Zesty Orange, and Soda and Tangy Finger Lime
Starward Whisky, Ginger Beer and Zesty Orange won Gold at the 2022 The Spirits Business Pre-Mixed & RTD Masters.
This impeccably paired combination of Lyre's Spiced Cane, Lyre's Dark Cane, ginger and lime zest is a non-alcoholic homage to the iconic mix. A crafted blend of classic flavours, evoking notes of ginger, lime, toffee & spice. Libations! 
We can't leave with a drink and a book but not include something to nibble on too. So we also added Hand Roasted Nuts.  No bits, no bobs, just nuts. Small batch cooked. 
All made with love and coconut oil. Selection includes Garlic & Rosemary Macadamia, Organic Cashew with Canadian Smoked Salt, or Peanuts in Murray River Salt
and of course as always our Mystery subscription booxies include sparkling water from Calm & Stormy and 2 tea pyramids from Teadrop Tea.
Subscribe to our Mystery Booxies book subscription box and get 25% OFF your first month in addition to other amazing savings that can add up to 2 FREE mystery booxies per year.
Subscribe to your myster book box, relax and enjoy your reads!
Leave a comment