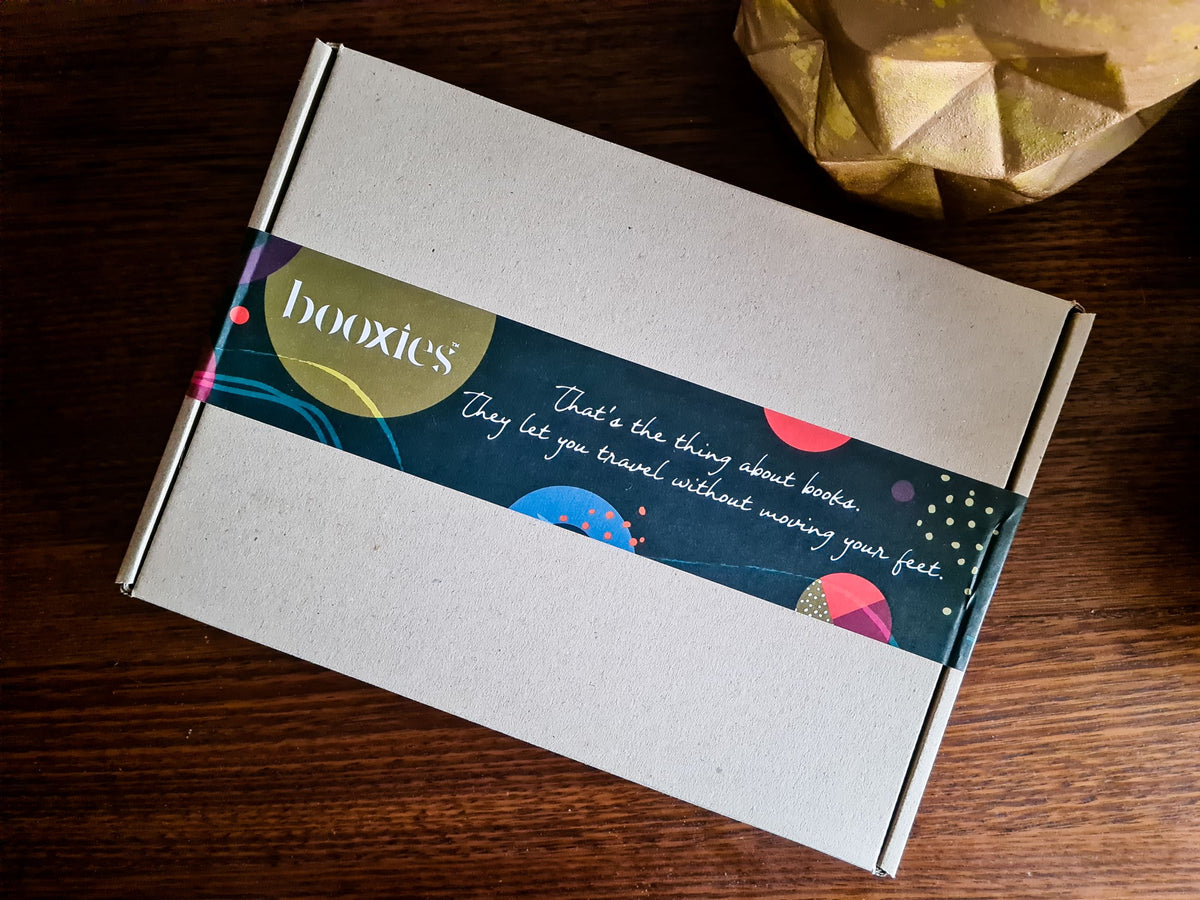 October Mystery Booxies
Mystery Booxies is a monthly or bi-monthly book subscription box that sends you a surprise book based on your preferred genre. You can also choose to receive a boxless booxies, which is a book that is not wrapped in a box and includes a signature bookmark, a pyramid teabag, and a greeting card.
Mystery Booxies is a great way to discover new books and authors, and it is also a thoughtful gift for book lovers. 
October book picks are:
Non- Fiction Book of The Month
When little things have big impacts. This book is for anyone who feels that they're sleepwalking through life, looking for answers to challenging emotions and the practical tools to begin living the life they want
We have been fooled into believing that 'Tiny T' trauma doesn't matter. There always seem to be huge, intractable problems in the world, so we tend to overlook those small, everyday injuries that drill down to your core. This leaves us with an undercurrent of constant melancholy and niggling pinpricks of anxiety, all wrapped up in the film of other people's Insta-perfect lives.
But life doesn't have to be experienced in this suffocating way; we owe it to ourselves to develop Awareness, Acceptance, and take Action on our Tiny T trauma, no matter how 'small', and to start living every day as we deserve.'
Fiction Book of The Month
The Wind Knows My Name is a novel by Isabel Allende that tells the story of two child immigrants, separated by time and space, but united by their resilience and their search for a home.
Samuel Adler is a five-year-old Jewish boy who flees Nazi-occupied Vienna in 1938 on a Kindertransport train to England. Anita Díaz is a seven-year-old girl who flees gang violence in El Salvador in 2019 with her mother, seeking asylum in the United States.
Both Samuel and Anita experience the trauma of displacement and separation. Samuel is forced to leave his parents and everything he knows behind, while Anita is separated from her mother at the US-Mexico border. But both children also find strength and hope in their new communities. Samuel finds a surrogate family in England, and Anita finds a safe haven in the home of a kind social worker.
The Wind Knows My Name is a powerful and moving story about the immigrant experience. It is a testament to the resilience of children and the power of hope.
Crime/ Thriller Book of The Month
Catherine Sterling thinks she knows her mother. Ruth Sterling is quiet, hardworking, and lives for her daughter. All her life, it's been just the two of them against the world. But now, Catherine is ready to spread her wings, move from home, and begin a new career. And Ruth Sterling will do anything to prevent that from happening.
Ruth Sterling thinks she knows her daughter. Catherine would never rebel, would never question anything about her mother's past or background. But when Ruth's desperate quest to keep her daughter by her side begins to reveal cracks in Ruth's carefully-constructed world, both mother and daughter begin a dance of deception.

No one can know Ruth's history. There is a reason why Ruth kept them moving every few years, and why she was ready--in a moment's notice--to be gone in the night.
Romance Book of The Month
An overworked book publicist with a perfectly planned future hits a snag when she falls in love with her temporary roommate…only to discover he lives seven years in the past, in this witty and wise new novel from the bestselling author of The Dead Romantics.
Sometimes, the worst day of your life happens, and you have to figure out how to live after it.

Six months ago, Clementine West had the worst day of her life. So, she came up with a plan to keep her heart safe: stay busy, work hard, take no risks. And it's been working.

That is until one day she finds a strange man standing in her kitchen. A man with kind eyes, a crooked smile, and a recipe for the perfect lemon meringue pie. The kind of man that, before everything, she could have fallen for . . .
YA Book of The Month
The Changing Man by Tomi Oyemakinde
When seventeen-year-old Ife joins Nithercott School through its prestigious Urban Achievers Program, she knows immediately that she doesn't fit. Wandering its echoing halls, she must fend off cruel taunts from the students and condescending attitudes from the teachers. When she finds herself thrown into detention for the foreseeable future, she strikes up an unlikely alliance with Ben, a troublemaker with an annoyingly cute smile. They've both got reasons to want to get out of Nithercott - Ben's brother is missing, and no one seems to be bothering to find him.

For Ife, it's just another strange element of this school that doesn't care about its students. But as more and more people start going missing, including one of Ife's only friends, she starts to feel haunted.

Who is the figure she's started seeing in the shadowy halls, who looks mysteriously like herself? And is there any truth in to the strange urban legend that travels the school like mist . . . the legend of the Changing Man?
Products of The Month
Espresso Hazelnut Chocolate from Cuvee
It's Cuvee's newest edition to their amazing handmade chocolate range.  Soleo 42% Milk Chocolate combined with freshly roasted coffee from our friends at Stash – filled with Cuvee's Gianduja Hazelnut Chocolate and that nice bit of crunch…
and of course as always our Mystery subscription booxies include sparkling water from Calm & Stormy and 2 tea pyramids from Teadrop Tea.
Subscribe to our Mystery Booxies and get 25% OFF your first month in addition to other amazing savings that can add up to 2 FREE mystery booxies per year.
Subscribe, relax and enjoy your reads 
Leave a comment