Conversation with Monica Vuu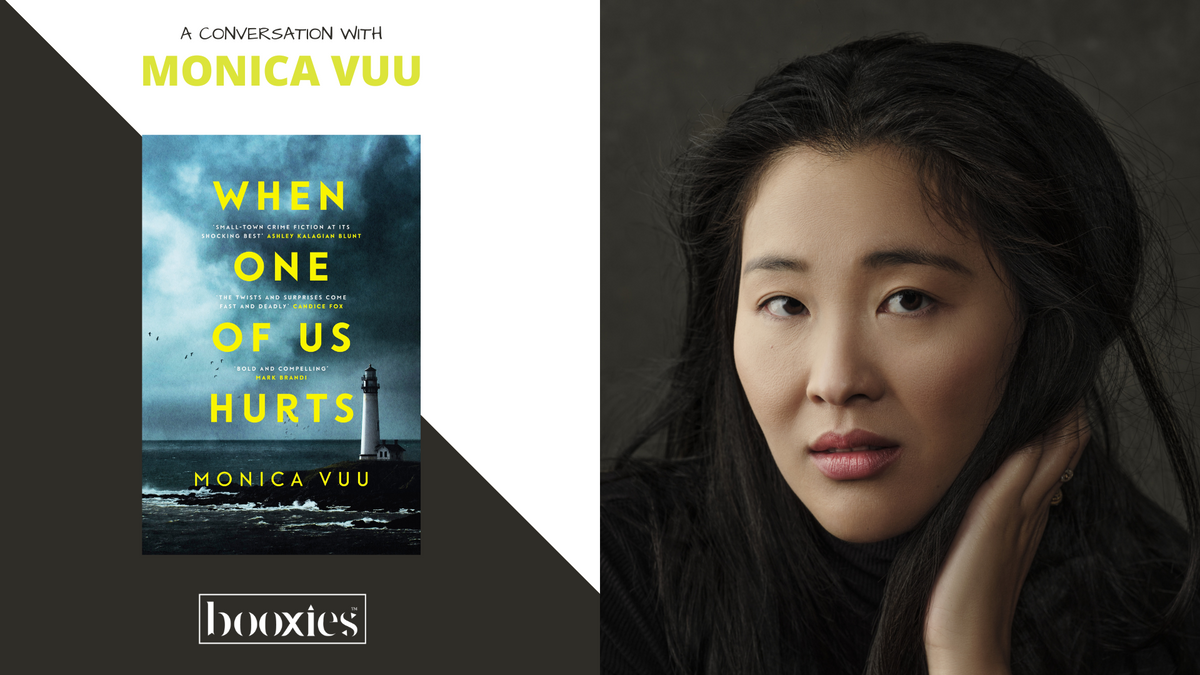 We love a good thriller novel and When One of Us Hurts by Monica Vuu was everything we could ever ask for in a thriller book. It is one of our favourite this year and we can't believe it's a debut novel.
When One of Us Hurts is our Thriller Book of The Month this August and we were privileged to have Monica signing us a limited number of copies with a very thoughtful message uniquely handwritten for our readers. 
Monica Vuu is an emerging author to keep an eye on and a talent that cannot be ignored and we are fortunate enough to be able to have a quick conversation with Vuu to learn more about her debut novel When One of Us Hurts in addition to few things about Monica.
Can you describe your new book 'When One of Us Hurts' (your elevator pitch)?
MV: The book is about two deaths that occur in a close-knit community. Everybody blames the town misfit, except Livvy, his fourteen-year-old step-sister. When an ambitious journalist comes into town asking questions, Livvy takes it upon herself to get involved in his investigation to protect her loved ones. It's got lighthouses, small town secrets, and crows. What more could a murder mystery need?
This is pretty twisted small town murder story, do you live in a small town yourself? And is that what inspired the story?
MV: Although the novel is set in a coastal town in Northern Tassie, I would like to make it clear that the town and its people are entirely fiction and a product of my imagination. The characters and their actions are in no way a reflection of any real people.
I envisioned this town when I was out walking along one of Tassie's pristine beaches. I was amazed at how lucky I was and wondered what would it have been like if I was unlucky. What if this beach was rotten? What if this entire town and its people were rotten? How would that affect my life? And what if I had to grow up in that environment? What would I be like?
Do you have a favourite character in your book? And why?
MV: I like Sebastian, which is unfortunate given his role in the story. He was so fun and carefree and didn't take anything too seriously. Maybe I only like him because my two narrators were the complete opposite of him and he allowed me a reprieve from the darker headspace.
The book has many twists and surprises, do you plan for them when you begin writing, or do you kind of get surprised of how things progress as you progress with your writing?
MV: I definitely don't plan. I'm a pantser. I do get surprised by how things might turn out and sometimes I'm sad at how horrible it'll be for the characters, but I do it anyway because it's right for the story.
What's your favourite recent read?
MV: Yellowface by Rebecca F. Kuang
What's your favourite writing/reading snack or drink?
MV: Tea! So much tea! All the tea! Pots and pots of tea!
We learned that you used to be a flight attendant. So, we can't help not ask, if you are granted a wish to live anywhere you like, where would you choose to live? And why? 
MV: New York! New York! New York! There's just so much to do! But I strongly believe if I lived in NY I'd absolutely get nothing done because there's too much fun to be had. I'd be completely hopeless at the work-life balance.
As a child, have you ever dreamt of becoming a published Author in Australia? What did you want to become when you grow up?
MV: I definitely did not ever dream of becoming a published author. As the daughter of two immigrants, education was my top priority and I excelled in sciences. A career in the arts wouldn't guarantee a steady paycheque (according to my parents, anyway) so becoming an author was never on my mind. I also never dreamed of living in Australia. I planned for none of this. Such is life.
I wanted to become a psychiatrist, but I realized early on that I did not have the passion for medicine unlike my peers. Then I think the "dream career" faded to favour practicality and I was set on becoming a programmer. I didn't mind it, but it would be work.
I am very lucky to have accidentally stumbled on to writing because I love to read and so even when I'm reading instead of writing I can still say I'm "working."
Add When One of Us Hurts to your tbr list or get one of the limited signed copies right now with your favourite Aussie drink or snack. We enjoyed the book with Hot Chocolate in this cold winter, but you can also channel your Monica by enjoying your book with a cup of tea.
Build your own booxies book box or get one of our curated booxies like Booxie Daisy if you are tea and chocolate fan, or Read N' Wine if you like to enjoy your book with a hand picked wine from one of our favourite wineries paired with chocolate for a better reading experience!
--------------------------------------------------------------------------------
About the Author
Monica Vuu is a Tasmanian-based writer. She was born in Langley, British Columbia and earned a B. Sc. in Cognitive systems. After graduation, she worked with Emirates Airlines and lived in Dubai where she met her Australian partner. She moved to Tasmania in 2019. WHEN ONE OF US HURTS is her first novel.
Leave a comment