Best Romance Books For The Year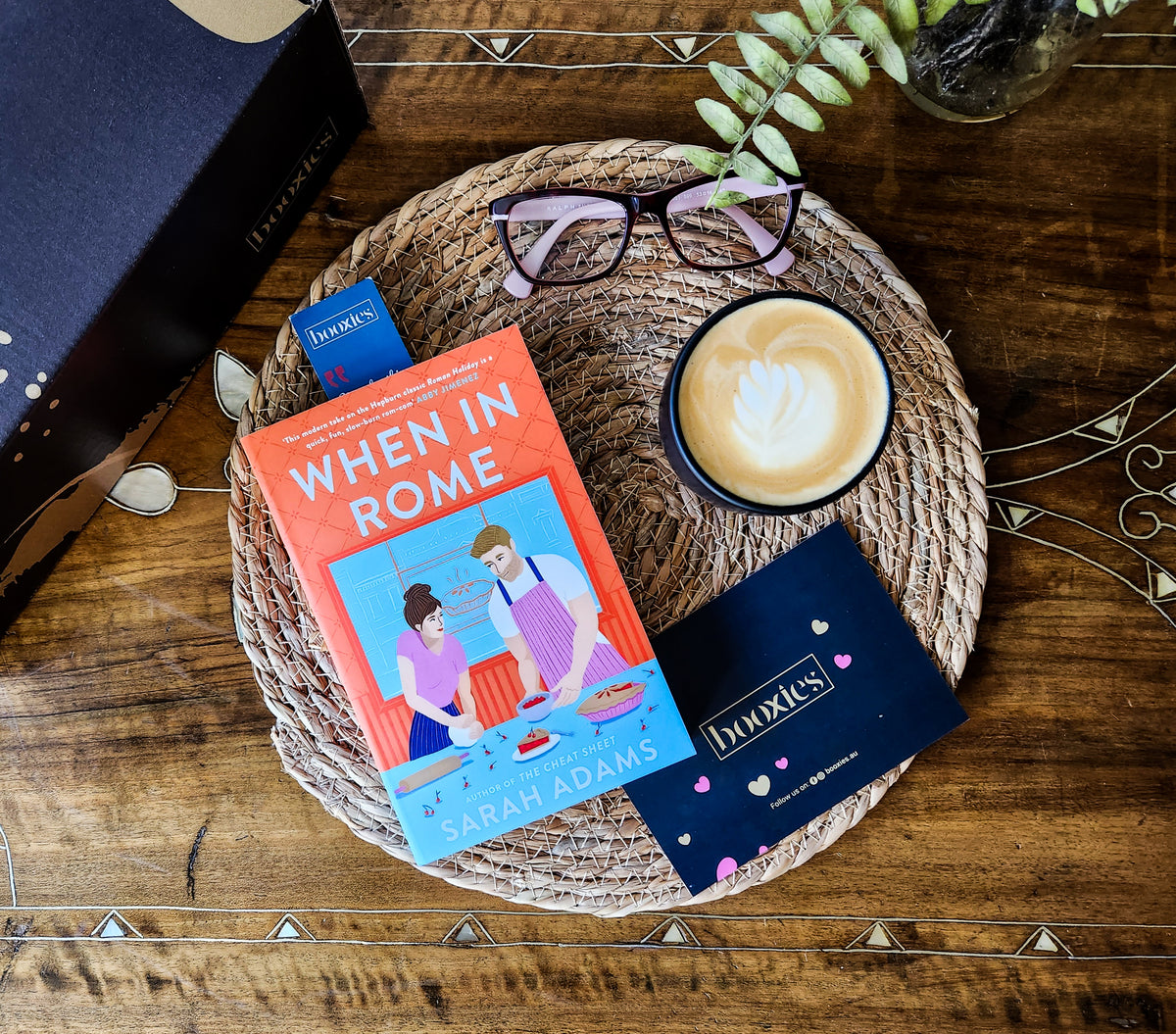 What better time to pick up a romance book than around Valentine's day. Whether you like it or love it, Valentines' day is a wonderful excuse to celebrate love in all its forms and shapes.
At booxies, we wanted to make your job selecting the perfect romance novel a little easier. Whether this is something for you or a gift for your bookish special someone on Valentine's day or to your best girl friend to celebrate love and true girls friendship on Galentine's day. Here are our favourite recent romance books
So here is a list of some of our favourite romance books for the year
This is a page turner of a romance book that is full of second chances, complicated relationships and the breathtaking beauty of American southwest. a laugh out loud romance novel by the reigning romance queen is perfect romance summer read.
Like Jodi Picoult said, it is exactly what we need right now, a true escape within the pages of a book.
Lily has never forgotten the man that got away . . . but she certainly hasn't forgiven him either!
As the daughter of a notorious treasure hunter, Lily makes ends meet using her father's coveted hand-drawn maps, guiding tourists on fake treasure hunts through the canyons of Utah. When the man she once loved walks back into her life with a motley crew of friends, ready to hit the trails, Lily can't believe her eyes. Frankly, she'd like to take him out into the wilderness - and leave him there.
Leo wants nothing more than to reconnect with his first and only love. Unfortunately, Lily is all business: it's never going to happen. But when the trip goes horribly and hilariously wrong, the group wonders if maybe the legend of the hidden treasure wasn't a gimmick after all. Alone under the stars in the isolated and dangerous mazes of the Canyonlands, Leo and Lily must decide whether they'll risk their lives, and their hearts, on the adventure of a lifetime . . .
This one is a laugh out romcom as you would expect from Emily Henry. The story is set over one sizzling hot August (clearly it is not set in Australia).
Nora is a cut-throat literary agent at the top of her game. Her whole life is books.
Charlie is an editor with a gift for creating bestsellers. And he's Nora's work nemesis.
Nora has been through enough break-ups to know she's the woman men date before they find their happy-ever-after. That's why Nora's sister has persuaded her to swap her desk in the city for a month's holiday in Sunshine Falls, North Carolina. It's a small town straight out of a romance novel, but instead of meeting sexy lumberjacks, handsome doctors or cute bartenders, Nora keeps bumping into...Charlie.
A funny, heartfelt and deeply relatable rom com about family, cultural identity, queer love, and the process of self-discovery that continues into adulthood as identities evolve, all in a fresh, humorous voice.
This is a funny touching novel that is full of emotions and love. in her debut novel, Taleen allows us to explore her Armenian American culture in this beautiful Queer love story.
When Nar's boyfriend gets down on one knee and proposes to her in front of a room full of drunk strangers in a San Francisco bar, she realises it's time to find someone who shares her idea of romance.

Enter her mother who wants Nar to settle down with a nice Armenia boy. Armed with a spreadsheet of Facebook-stalked men, she convinces Nar to attend 'Explore Armenia', a month-long festival of events in the city. But it's not the parentally-approved playboy doctor or wealthy engineer who catches her eye - it's Erebuni, a cool and intriguing young woman fully in touch with her heritage. Suddenly, with Erebuni as her guide, the events feel like far less of a chore, and much more of an adventure.

Erebuni helps Nar see the beauty of their shared culture and makes her feel understood in a way she never has before. But there's one teeny problem: Nar's not exactly out as bisexual.
This got to be one of our absolute favourite romance books of the year.
Their love was supposed to last forever. But when life delivered blow after devastating blow, Yasmen and Josiah Wade found that love alone couldn't solve or save everything.

It couldn't save their marriage.

Yasmen wasn't prepared for how her life fell apart, but she's is finally starting to find joy again. She and Josiah have found a new rhythm, co-parenting their two kids and running a thriving business together. Yet like magnets, they're always drawn back to each other, and now they're beginning to wonder if they're truly ready to let go of everything they once had.

Soon, one stolen kiss leads to another…and then more. It's hot. It's illicit. It's all good—until old wounds reopen. Is it too late for them to find forever? Or could they even be better, the second time around?
A burnt-out pop star stranded in small-town Kentucky can't help falling for her unlikely knight in shining armour - the notoriously grumpy owner of the local pie shop - in this charming slice of romance from the author of the TikTok sensation The Cheat Sheet.
Amelia Rose, known as Rae Rose to her fans, is burnt out from years of maintaining her 'princess of pop' image. Inspired by her favourite Audrey Hepburn film Roman Holiday, and desperate for a getaway from the music business, she drives off in the middle of the night for a respite in Rome . . . Rome, Kentucky, that is.
When Noah Walker finds Amelia on his front lawn in her broken-down car, he makes it clear he doesn't have the time or patience for celebrity problems. He's too busy running the pie shop his grandmother left him and reminding his nosy but lovable neighbours to mind their own damn business. But his heart softens when it becomes clear that years in the public eye have left Amelia lonely and isolated. Soon she'll have to return to her glamorous life on tour, but until then Noah will show Amelia all the charming small-town experiences she's been missing and she'll show him how to open his heart to more.
Amelia can't resist falling for Rome and her grumpy tour guide, but she keeps reminding herself that even Audrey had to go back to her real life in the end . . .
Bee Konigswasser lives by a simple code: What would Marie Curie do? If NASA offered her the lead on a neuroengineering project - a literal dream come true - Marie would accept without hesitation. Duh. But the mother of modern physics never had to co-lead with Levi Ward.

Sure, Levi is attractive in a tall, dark, and piercing-eyes kind of way. But Levi made his feelings toward Bee very clear in grad school - archenemies work best employed in their own galaxies far, far away.

But when her equipment starts to go missing and the staff ignore her, Bee could swear she sees Levi softening into an ally, backing her plays, seconding her ideas... devouring her with those eyes. The possibilities have all her neurons firing.
But when it comes time to actually make a move and put her heart on the line, there's only one question that matters: What will Bee Konigswasser do?
A story of bravery in all its guises, Eva Carter's Owner of A Lonely Heart is about taking the plunge even when it terrifies you – because it's never too late to try doing something different.
Gemma is variously trying to keep busy, rebuild her life after a personal tragedy, and start a family. She's also, though she'd hate to admit it, lonely.

Dan is attractive, laid back, and terrified of anyone getting to know the real him. He's lonely as well – not that you'd know it if you saw him out with his mates.

Casey is Dan's daughter. She's undergoing treatment for a tumour and is lonely too, and scared, but desperately trying to pretend otherwise.

When Gemma, Dan and Casey's paths cross one scorching July, they all have their reasons for keeping their distance; none of them would choose to be alone, but somehow the myriad little choices they made along the way have brought them to that point just the same. Now fate has brought them together, though, perhaps they'll be able to find the courage to make a different choice . . .
What if you picked up the wrong suitcase at the airport and fell in love with the contents? From the New York Times bestselling author of This Time Next Year comes a gorgeously romantic story of two people brought together in the most unexpected way.
Tell me the story of how you two met...
Laura has built a career out of interviewing people about their epic real life love stories.
When she picks up the wrong suitcase at the airport, Laura wonders if this could be the start of something that's written in the stars.
From piano sheet-music to a battered copy of her favourite book, Laura finds in the bag evidence of everything she could hope for in a partner.
If Laura's job has taught her anything it's that when it comes to love, you can't let opportunity pass you by. Now Laura is determined to track down the owner of the suitcase, and her own happy ending.
But what if fate has other ideas?
Romance, revenge, and reality TV. The new queer YA rom-com from Sophie Gonzales, bestselling author of Only Mostly Devastated.
Eighteen-year-old Maya dumped her cheating ex-boyfriend Jordy two years ago. So, when she receives a call to participate in Second Chance Romance - a reality show in which the now-famous Jordy re-dates his ex-girlfriends - she isn't interested . . . until she realizes she can use this opportunity to exact her revenge. If she can make it to the final spot on the show, she can reject Jordy in front of the nation, and publicly break his heart.
Maya's fellow contestants include Skye, the beautiful, charismatic girl Jordy cheated on Maya with. Skye charms the socks off everyone she meets, except for Maya, who knows that underneath all the sparkle, she's the girl who dated her boyfriend while he was still her boyfriend.

The reality show is a challenging environment. Amidst backstabbing, bickering, and having to see Jordy again, Maya finds herself becoming friends with Skye. Together, they come up with a plan for the ultimate revenge on Jordy.
For more beautiful romance reads checkout our booxies romance books collection. You can build your own romantic booxies with up to 2 books and up to 3 products of your choice to make the perfect Valentine or Galentine gift this year. Something unique and thoughtful to say I love you! a bath brew from Byron Bay's Addition Studio with a bottle of Prosecco from The Yarra Valley's Zonzo. Or some delicious handmade chocolate from our friends at Hey Tiger or vegan and Gluten Free gift with chocolate from Loco Love. Then add some of our favourite Aussie Lollies that are guaranteed to bring a smile to every face.
For easy quick but yet thoughtful gifts, head to our Valentine's day gift collection and get one of our curated valentine's day gift and get it delivered to your special person with your personalised message. If you are away don't worry, we have same day delivery in Melbourne, and we can deliver express Australia and New Zealand.
Make it a special Valentine's day this year with booxies.
Leave a comment