Best Corporate Book Gift Ideas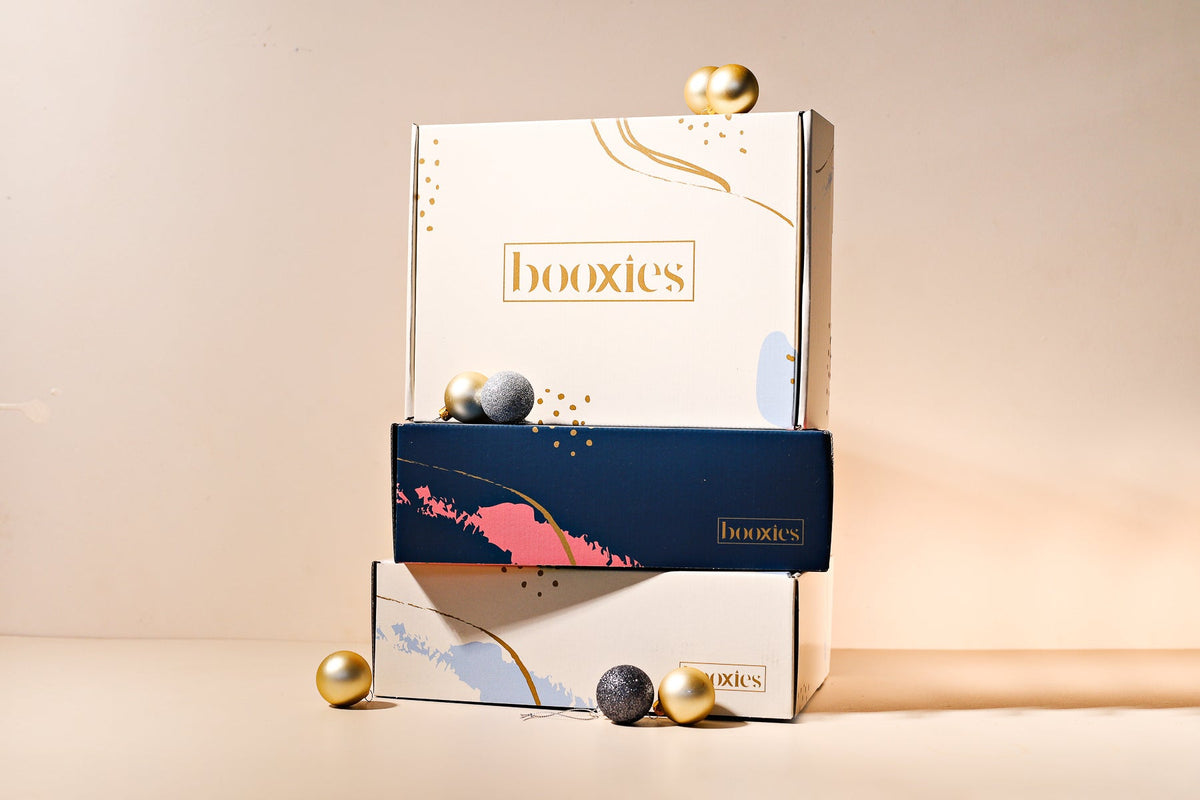 It is the gifting season which is a great opportunity for all the good thoughtful companies and businesses to recognise and reward their staff and team members or thank their clients for their business. But we know it can be a little daunting to look for a thoughtful Christmas gift that represents you and how you feel about your team or customers. You can spend hours searching the net for ideas for the best Christmas and corporate gifts, but most often than not you end up with same old same old hampers that include a collection of random edible products that often not usable and scream generic and unpersonal. And that's why booxies is here.
We believe booxies is the answer to these generic unpersonal wasteful hampers. with booxies you will end up with a gift that will impress your clients and make your team happy and feeling valued. very thoughtful and unique gift box that include hand picked books and curated Australian made products and to make it even better we only use sustainable and eco friendly packaging materials which makes booxies the ideal sustainable gift for 2022.
So here are top book gifts we believe will wow your clients and teams and will make them feel like they matter to you. You will be a super star who have put a lot of thoughts and time in selecting and choosing what goes in their gifts but in fact it will only take you minutes to do so.
For those who like an athletic spin
Many of us like to read stories about successful athletes in this world. They are so inspiring and motivating. And to be honest we think they are great books to motivate and inspire your team and remind them that hard work, persistence and following your passion pays off at the end - no matter what the industry you are in.
We particularly love these sports books
This book is a very inspiring story. It's a real story of the American Olympics rowing team who won gold in Berlin 1936. Which took place during Hitler's time.

It's the story of sons of loggers' shipyard workers and farmers and how they beaten all the odds and defeated their elite rivals and made it to Berlin to finally defeat the German rowing crew in the final.

This book got me into rowing few years ago and it's been the best thing I've done for a while. You never know what you end up doing because of a book! So, choose wisely!
You don't need to understand or enjoy rowing to enjoy this book. The book is about much more than that. It's about those 8 boys' inspiring journey, what rowing meant to them, the amazing team work, resilience and hope to achieve their dream.
This can make a great gift to inspire team work and enforce the message 'We are all in the same boat'
We created this gift box for a client who liked a bit of fun in the box so we included 3x ready to drink award winning cocktails from Curatif with garnish and Honeydew Green Tea from Teadrop Tea
This is a beautifully hunting memoir by one of the biggest names in Tennis globally.
Agassi's incredibly rigorous training begins when he is just a child. By the age of thirteen, he is banished to a Florida tennis camp that feels like a prison camp. Lonely, scared, a ninth-grade dropout, he rebels in ways that will soon make him a 1980s icon. He dyes his hair, pierces his ears, dresses like a punk rocker. By the time he turns pro at sixteen, his new look promises to change tennis forever, as does his lightning-fast return.

And yet, despite his raw talent, he struggles early on. We feel his confusion as he loses to the world's best, his greater confusion as he starts to win. After stumbling in three Grand Slam finals, Agassi shocks the world, and himself, by capturing the 1992 Wimbledon. Overnight he becomes a fan favourite and a media target.

Agassi brings a near-photographic memory to every pivotal match and every relationship. Never before has the inner game of tennis and the outer game of fame been so precisely limned. Alongside vivid portraits of rivals from several generations—Jimmy Connors, Pete Sampras, Roger Federer—Agassi gives unstinting accounts of his brief time with Barbra Streisand and his doomed marriage to Brooke Shields. He reveals a shattering loss of confidence. And he recounts his spectacular resurrection, a comeback climaxing with his epic run at the 1999 French Open and his march to become the oldest man ever ranked number one.
Open is a great book to read and cherish whether you are a tennis fan or not. He will captivate you with how detailed he can be sometimes.
We think it goes best with Calm & Stormy Sparkling Water, because how else can you describe Agassi.
Based on her inspiring, viral 2018 commencement speech to Barnard College's graduates in New York City, New York Times bestselling author, two-time Olympic gold medallist and FIFA World Cup champion Abby Wambach delivers her empowering rally cry for women to unleash their individual power, unite with their pack, and emerge victorious together.
In Abby's vision, we are not Little Red Riding Hoods, staying on the path because we're told to. We are the wolves, fighting for a better tomorrow for ourselves, our pack, and all the future wolves who will come after us.
It is a short but powerful book. An empowering book for leaders, athletes, women, young girls and everyone.
"Failure is not something to be ashamed of—nor is it proof of unworthiness. Failure is something to be powered by. When we live afraid to fail, we don't take risks. We don't bring our entire selves to the table—so we end up failing before we even begin. Let's stop worrying: What if I fail? Instead, let's promise ourselves: When I fail, I'll stick around."
We created this gift box for a client and it included all vegan goodies such as Game Changer from Hey Tiger, Dark Hot Chocolate from Cuvee and Sparkling Water from Calm & Stormy. 
For those who are looking for books for personal development and leadership
If you are thinking of sending something special to your clients or executives, you can't get it wrong with an inspiring leadership book. Something to remind them they are also inspiring successful leaders or to aspire them to become one.
We particularly love these books by leaders:
Ed Catmul is the Co- Founder of Pixar Animation Studios together with Steve Jobs and John Lasseter.
As a young man, Ed Catmull had a dream: to make the first computer-animated movie. He nurtured that dream as a Ph.D. student at the University of Utah, where many computer science pioneers got their start, and then forged a partnership with George Lucas that led, indirectly, to his founding Pixar with Steve Jobs and John Lasseter in 1986. Nine years later, Toy Story was released, changing animation forever. The essential ingredient in that movie's success—and in the thirteen movies that followed—was the unique environment that Catmull and his colleagues built at Pixar, based on philosophies that protect the creative process and defy convention.
Creativity Inc is a book for managers who want to lead their employees to new heights, a manual for anyone who strives for originality, and the first ever all-access trip into the nerve centre of Pixar Animation. It is a book about creativity in business and how to build a creative culture at work.
What would you do if you were stranded in the coldest place on earth as the world you knew back home changed forever because of the Pandemic?

537 Days of Winter by The Australian Antarctic Expedition Leader David Knoff is a great story about resilience, endurance and humanity
As station leader at the Davis Research Station in Antarctica, David Knoff was leading 24 expeditioners in a standard six-month mission when the COVID-19 pandemic hit, international travel came to a standstill and their ride home was cancelled – indefinitely. What was supposed to be a routine mission became a high-pressure cauldron of uncertainty and anxiety where everyone was pushed to their mental limits. They'd have to draw on every ounce of resilience to ensure a safe return.

We've had the privilege to meet David to talk about his unique experience and get our hands on a number of signed copies for our readers.
We think 537 Days of Winter is great with a hot cup of tea from Teadrop to keep you warm, or some single malt award winning whisky from Starward to make you feel like a boss.
"Fall seven. Rise eight." 

Grit is a great book to remind us of the importance of passion and perseverance. That it's not our natural talents that get us places, but in fact hard work and commitment.
In this must-read book for anyone striving to succeed, pioneering psychologist Angela Duckworth shows parents, educators, students, and business people both seasoned and new that the secret to outstanding achievement is not talent but a focused persistence called grit.

Why do some people succeed and others fail? Sharing new insights from her landmark research on grit, Angela Duckworth explains why talent is hardly a guarantor of success. Rather, other factors can be even more crucial such as identifying our passions and following through on our commitments.

Whether you want to be successful at music, sport, business or anything else. Grit is the key ingredient you need.

Grit makes a great gift for your team members or clients alike and can be perfect with organic coffee beans, herbal tea and chocolate to give you more energy for that much needed grit.
We created this gift box for a client who wanted to also include their own merchandise and wanted a mix of few things. Herbal Tea to use their own mug for, Handmade Cafe Latte chocolate from Atypic and a Negroni Cocktail from Curatif
For those who like something for well-being
There is no more important topic than wellbeing and mental health right now. last couple of years been an important reminders and triggers to get us to focus on ourselves a little more and pay attention to the mental health of those around us as well. So many companies do focus on that right now and been continuously talking about the importance of well-being. so if you are thinking of running a wellbeing day or a seminar or just remind your staff to take some quiet time and focus on themselves, here our top pick for well-being books
Ikigai; The Japanese Secret to a Long and Happy Life by Hector Garcia and Francesc Miralles is a great choice for corporate gifting who are looking for well-being gift.

The People of Japan believe that everyone has an Ikigai - A reason to jump out of bed each morning.

Have you found that sweet spot between what you love, what you are good at, what the world needs and what you can be paid for? I don't think it's an easy task!

Get it with herbal tea from Teadrop tea to stay calm and centred.
No matter what you eat, how much you exercise, how skinny or young or wise you are, none of it matters if you're not breathing properly.
There is nothing more essential to our health and wellbeing than breathing: take air in, let it out, repeat 25,000 times a day. Yet, as a species, humans have lost the ability to breathe correctly,
Some fascinating scientific research in Breath about the importance of correct breathing through our noses, and how we lost the art of breathing throughout history which caused some physical changes to humans.

"Mouth breathing, it turns out, changes the physical body and transforms airways, all for the worse. Inhaling air through the mouth decreases pressure, which causes the soft tissues in the back of the mouth to become loose and flex inward, creating less space and making breathing more difficult. Mouth breathing begets more mouth breathing." - Breath by James Nestor
You will never breathe the same again.
Bittersweet: How Sorrow and Longing Make Us Whole by the best-selling author Susan Cain
With Quiet, Susan Cain urged our society to cultivate space for the undervalued, indispensable introverts among us, thereby revealing an untapped power hidden in plain sight. Now she employs the same mix of research, storytelling, and memoir to explore why we experience sorrow and longing, and the surprising lessons these states of mind teach us about creativity, compassion, leadership, spirituality, mortality, and love.

Bittersweetness is a tendency to states of longing, poignancy, and sorrow; an acute awareness of passing time; and a curiously piercing joy when beholding beauty. It recognizes that light and dark, birth and death—bitter and sweet—are forever paired.

But bittersweetness is not, as we tend to think, just a momentary feeling or event. It's also a way of being, a storied heritage. Our artistic and spiritual traditions—amplified by recent scientific and management research—teach us its power.

If you've ever wondered why you like sad music . . .
If you find comfort or inspiration in a rainy day . . .
If you react intensely to music, art, nature, and beauty . . .

Then you probably identify with the bitter­sweet state of mind.
A wonderful book that can be a great well-being corporate gift and we found it great with Long Black chocolate (for a bit of bitter) and Café Latte Milk Chocolate (for a bit of Sweet) from South Melbourne's Atypic.
For those who like an inspiring true story
There is nothing more inspiring than reading a true story of a regular person just like you and me who overcame a great struggle in their life and made something positive out of it. It's the ordinary people that overcome extraordinary circumstances who are the most inspiring of all.  There are so many great stories and so many amazing people but we had to choose our top books that we think are suitable for corporate gifting and everyone else.
From a terrible accident that left her paraplegic, Emma Carey has become an inspiration for hundreds of thousands online to live life to the fullest and remind us that if we can, we must.

There on that helicopter, somewhere over Switzerland on a Sunday in June, came the first tiny whisper. A voice that that would carry me for years to come. 'I'm going to be okay. There's still joy here.'

When Emma Carey was twenty, she fell from 14,000 feet and survived. In The Girl Who Fell From the Sky, Emma tells us the inspirational story of how, through what could be considered one of her greatest tragedies, she found her truest self.

From waking in hospital to the news that she was a paraplegic to learning how to use her legs again, through the six-year long court case and now being finally free to make the most of her life, Emma teaches us the importance of courage and resilience and how to appreciate the extraordinary beauty found even in the most ordinary moments of our lives.

This heartfelt book is more than a memoir, it's a call to action that reminds us not to take our lives and abilities for granted but to live every day like it could be our last.
We created this gift box for a client who wanted a bit of Turkish Delight Vodka from Billson's with garnish (yum!) and Chai Latte from Cuvee
In this wise and layered book, Leigh talks intimately with people who've faced the unimaginable, from terrorism to natural disaster to simply being in the wrong place at the wrong time. Expecting broken lives, she instead finds strength, hope, even humour. Leigh brilliantly condenses the cutting-edge research on the way the human brain processes fear and grief, and poses the questions we too often ignore out of awkwardness. Along the way, she offers an unguarded account of her own challenges and what she's learned about coping with life's unexpected blows.

Warm, candid and empathetic, this book is about what happens when ordinary people, on ordinary days, are forced to suddenly find the resilience most of us don't know we have.
"I've realised that by far the most valuable friends are the kind ones. They may not be the most sparkling guests at the dinner table or the most memorable makers of wedding speeches. But my God, they are the ones you want to sit with you at the worst of times. They are the ones who know the right things to say and do, because their hearts are empathetic. I've come to believe that amongst all the good human qualities, there is none greater than kindness."
Leigh talks about those extraordinary events that change people lives forever, and how that extraordinary event/day starts just like any other ordinary one! Sales interviewed and talked to several people who went through an exceptional event in their life. How that affected them and how they carried on and managed to continue with their lives after those events. It shows how strong and resilient we human can be.
We created this gift box for a client that wanted it to be all Gin related which we love. Four Pillar Gin with garnish, Gin infused hand made chocolate from Hunted + Gathered and Sparkling Water from Calm & Stormy for some hydration.
For those who like the classics
If you are looking for a safe option, then you can't beat a classic! There are countless of great classic books that are suitable for almost everyone even those that aren't readers because these are the type of books you will be happy and proud to keep on your shelf no matter what.
Our top picks for classic "safe" books for gifts:
Yuval Noah Harari, author of the critically-acclaimed New York Times bestseller and international phenomenon Sapiens, returns with an equally original, compelling, and provocative book, turning his focus toward humanity's future, and our quest to upgrade humans into gods.
Over the past century humankind has managed to do the impossible and rein in famine, plague, and war. This may seem hard to accept, but, as Harari explains in his trademark style—thorough, yet riveting—famine, plague and war have been transformed from incomprehensible and uncontrollable forces of nature into manageable challenges. For the first time ever, more people die from eating too much than from eating too little; more people die from old age than from infectious diseases; and more people commit suicide than are killed by soldiers, terrorists and criminals put together. The average American is a thousand times more likely to die from binging at McDonalds than from being blown up by Al Qaeda.
What then will replace famine, plague, and war at the top of the human agenda? As the self-made gods of planet earth, what destinies will we set ourselves, and which quests will we undertake? Homo Deus explores the projects, dreams and nightmares that will shape the twenty-first century—from overcoming death to creating artificial life. It asks the fundamental questions: Where do we go from here? And how will we protect this fragile world from our own destructive powers? This is the next stage of evolution. This is Homo Deus.
With the same insight and clarity that made Sapiens an international hit and a New York Times bestseller, Harari maps out our future.
We believe it can be great corporate gift with a beautiful bottle of wine from an Australian winery and handmade chocolate expertly paired with your wine.
This is a mammoth of a book! A big slab but totally worth every minute of it!
Dias asks a fundamental question of Who we are and who we can be.
This book introduces you to ten people. In a way, you already know them. Only you don't – not really. In a sense, they are you. Only they're not entirely. They inform and shape the most important decisions in your life. But you're almost certainly unaware of their intervention. They are the Ten Types of Human. Who are they? What are they for? How did they get into your head?

We want to believe that there are some things we would never do. We want to believe that there are others we always would. But how can we be sure? What are our limits? Do we have limits?
The answer lies with the Ten Types of Human: the people we become when we are faced with life's most difficult decisions. But who or what are these Types? Where do they come from? How did they get into our heads?

Dexter Dias is a human right lawyer who travels the world to interview real people who had to go through something extraordinary in their lives then gets us thinking of what would we do if we were them or if we were in certain circumstances.

Dias demonstrates the Ten different types of human that we can have in us at different times and under different circumstances and probably different life experience; from the Rescuer and The Nurturer to The Aggressor and more..
This book is a wonderful exploration of human behaviours.
For those who like something current and topical
For those who are looking for something more current and topical. A cool gift with a trendy subject and an important message and reminder for all of us, then look no further than these non-fiction books. They cover great subjects that it's almost guaranteed everyone can relate to them and can either learn from them or use them as a reminder to what they already know.
We love the following trending books to add to your gift box this year: 
What an important, timely and well researched book.

In the United States, teenagers can focus on one task for only sixty-five seconds at a time, and office workers average only three minutes. Like so many of us, Johann Hari was finding that constantly switching from device to device and tab to tab was a diminishing and depressing way to live. He tried all sorts of self-help solutions--even abandoning his phone for three months--but nothing seemed to work. So Hari went on an epic journey across the world to interview the leading experts on human attention--and he discovered that everything we think we know about this crisis is wrong.
We think our inability to focus is a personal failure to exert enough willpower over our devices. The truth is even more disturbing: our focus has been stolen by powerful external forces that have left us uniquely vulnerable to corporations determined to raid our attention for profit. Hari found that there are twelve deep causes of this crisis, from the decline of mind-wandering to rising pollution, all of which have robbed some of our attention. In Stolen Focus, he introduces readers to Silicon Valley dissidents who learned to hack human attention, and veterinarians who diagnose dogs with ADHD. He explores a favela in Rio de Janeiro where everyone lost their attention in a particularly surreal way, and an office in New Zealand that discovered a remarkable technique to restore workers' productivity.
"Not everything that is faced can be changed, but nothing can be changed until it is faced." - Stolen Focus by Johann Hari
Stolen Focus is great with anything that can keep you focused until we learn how to stay focus without external help! we love it with handmade chocolate and lollies.
"The lesson is plain: Speak up. Ask him out. Take that trip. Start that business. Step off the train."

Everybody has regrets, Daniel H. Pink explains in The Power of Regret. They're a universal and healthy part of being human. And understanding how regret works can help us make smarter decisions, perform better at work and school, and bring greater meaning to our lives.
Pink explores and explains the different types of regrets; Foundation, Boldness, Moral and Connection regrets.

And how it is to live and to be fully human, it's impossible not to have regrets in our life. We sometimes hesitate. Occasionally don't make the right decisions. Might not work hard enough (or work too hard). Not reach out to old friends who we love. Not spend enough time with family ... and more. Sometimes big regrets and sometimes small ones but all of them teach us lessons and help us move forward by looking backward and wanting to avoid that outcome or feeling again.

" I've discovered about myself what I've discovered about others. Regret makes me human. Regret makes me better. Regrets gives me hope." - Daniel H. Pink.
Easy read. Not too big and very engaging.
Hope you got some inspiration from this article of what makes a good gift box for book lovers and anyone else. A memorable thoughtful gift that you can proudly present to clients, executives and staff.
Head to our website to get more inspiration from our big but carefully selected book selection and check out some of our curated gift boxes or create your own gift box if you prefer an even more personalised gift.
Get in touch with us and let us help you put a thoughtful and unique gifts that is guaranteed to impress everyone or send us an email to hello@booxies.com
Leave a comment