Top Thriller Books to Read This Halloween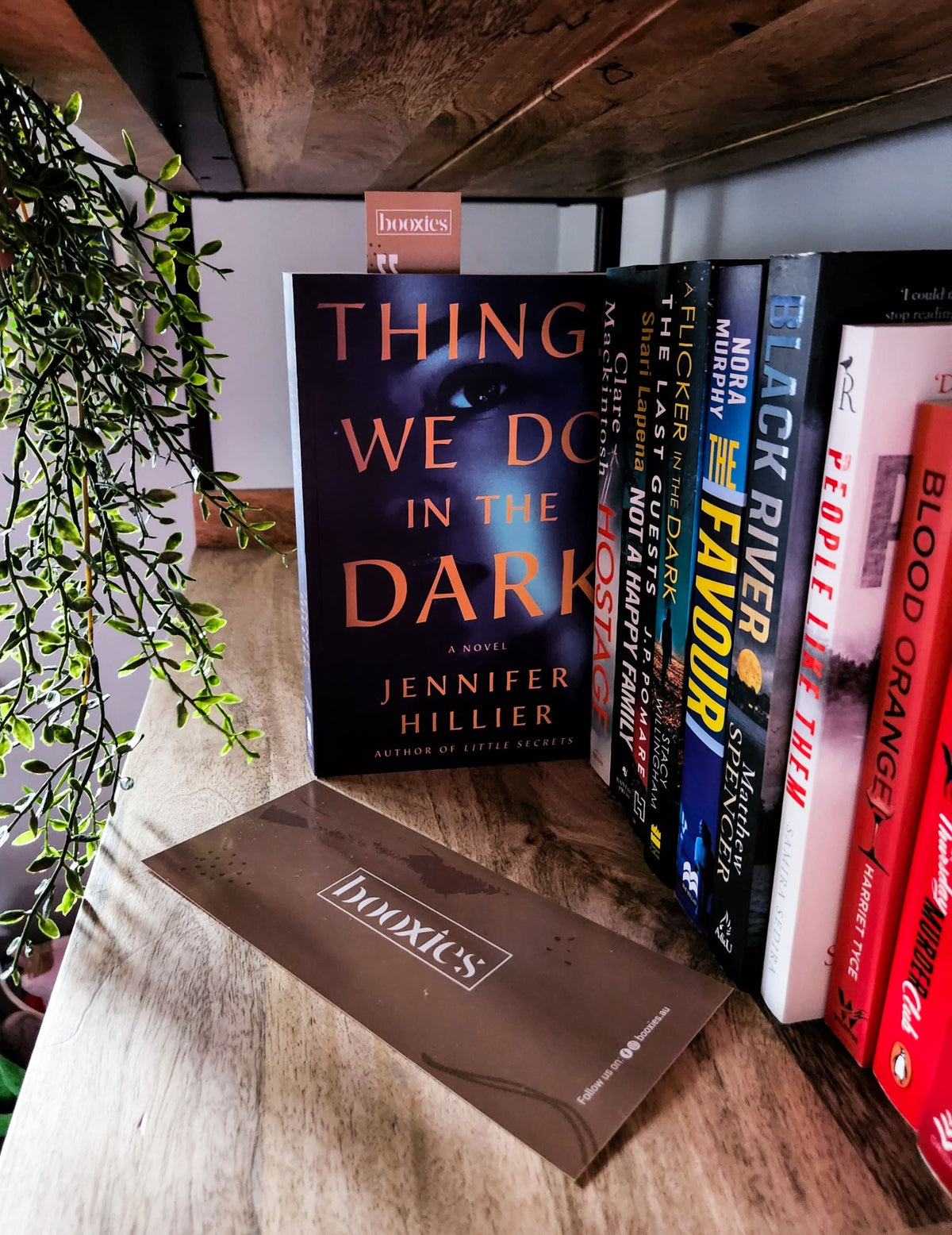 The Spooky Month of October is here, and if you - like us at booxies - enjoy reading a good thriller book or maybe few. If you enjoy being on the edge of your seat or couch or bed or whatever all the times, and love to hold a gripping page turner novel in your hands with a glass of wine or a cup of tea; then let's get through our top thriller books for 2022 so far.
We know there are a lot of great thriller and crime books out there, and there is no shortage of great books at all. In fact, the problem is there are too many good books and too little time, so we decided to make your job easier if you wanted to enjoy a gripping thriller this Halloween.
Here are our top 6 thriller and suspense books in 2022 so far:
 1. Daisy Darker by Alice Feeney
Daisy Darker is a story about a dysfunctional family full of secrets, getting together to celebrate Daisy's grandmother's 80th birthday (which she believes is her last one) at Halloween night (so spooky). Grandma's house – Seaglass – is on a kind of a private island when tide is high. So that means The Darker family are locked in a house they can't leave from for at least 8 hours due to the high tide ... what can go wrong when a family full of secrets get together?
Very entertaining and gripping read. Full of twists and turns. Check full synopsis here
What to pair it with:
We loved Daisy Darker with Dark N' Spicy alcohol-free Cocktail from Lyres. You can get it in Build Your Own booxies or with Lie To Me pre-selected booxies box.
2. A Flicker in The Dark by Stacy Willingham
A Flicker in The Dark was our thriller book choice for February Mystery Booxies and Oh what a page turner!

"And for one slight moment, like a flicker in the dark, it felt good."

How would you feel if you are the daughter of a serial killer?? And what if your worst fears come true 20 years later with more murders?
Chloe Davis' father is a serial killer. He was convicted and jailed when she was twelve but the bodies of the girls were never found, seemingly lost in the surrounding Louisiana swamps. The case became notorious and Chloe's family was destroyed.

It's a very gripping twisted fast paced story. It keeps you guessing and on the edge of your seat until almost the end. Loved the plot, the twists and the creepy vibe. One of our favourite crime/ thriller books in the last 12 months for sure. Check full synopsis here
3. Stay Awake by Megan Goldin
Stay Awake starts with Liv Reese waking up in the back of a cab in NYC with no idea where she is or how she got there. No phone. No wallet. No memory of anything from last two years, and no place to live .. and to make things even worse she sees local news about a murder that she is the prime suspect of
We had the privilege to meet Megan Goldin and get our hands on some signed copies this year. She is an amazing thriller author who lives in Melbourne and the memory loss that Liv experience in the book is inspired by the blur of last 2 years of lockdowns in Melbourne which we think is pretty cool.
The story is so fast and gripping you cannot put it down no matter how hard you try. A highly recommended read for the thriller lovers out there. Check full synopsis here 
What to pair it with:
We loved Stay Awake (for obvious reasons) with Espresso Martini from Curatif Cocktails and Organic Coffee (we always love a latte). You can get it in Build Your Own booxies or with I'll Sleep When I Die pre-selected booxies box.
 4. The Bay by Allie Reynolds
Allie Reynolds has written great thrillers in extremely different locations and environments. Allie's debut thriller 
Shiver  was set in the French Alpes. A gripping story about bunch of very competitive snowboarders who would kill to always win.
Now her latest book The Bay (which we are lucky enough to have signed copies of) certainly lived up to the high expectations. Such a page turner that you want to finish in one sitting.

This one as the title suggests is set on a Bay few hundred km north of Sydney. It's a remote surfing spot with waves to die for. Literally!!

Its an unputdownable thriller that was described as The Beach meets Point Break the movie. Check full synopsis here
What to pair it with:
The Bay is all about beaches and surfing and what can go better with this book than an eco friendly towel from Evolve and a Zinc stick from P4O . You can get it in Build Your Own booxies or just go with our new summer themed booxies or our new booxies Summer Spirit  
 5. Things We Do In The Dark by Jennifer Hillier
This one was sooo gripping. So intense. Very well written. We couldn't put it down until the end. Loved it! 
Paris Peralta is arrested in her bathroom covered in blood with a razor in her hand and her husband dead in the bath tub. She has no recollection of killing her celebrity husband but all evidence point to her. She claims to be innocent but she has a hidden past and a dark secret that no one knows about.
Things We Do In The Dark was our Thriller book pick for August Mystery Booxies and I'm sure will keep you on the edge of your seat until the end. I thoroughly enjoyed every page of it. Check full synopsis here
What to pair it with:
We enjoyed Things We Do In The Dark with some of our read to drink cocktails from Curatif, especially their delicious Negroni. . You can get it in Build Your Own booxies or with When Life Drives You Nuts pre-selected booxies box. 
 6. The Paris Apartment by Lucy Foley
"You can't choose your blood."
Oh merde! Such a fast paced, gripping full of twists story that start from page 1 and keeps you on the edge of your seat till the end
It's a story sets in a beautiful apartment building in Paris. One murder. Very suspicious residents. And a very curious brave and reckless sister.
A story about loyalty & betrayal. Privileges & hardships. Perceptions & realities.
We loved that Foley used lots of French words and expressions throughout the book. It makes you feel closer to the story and takes you straight to Paris. but don't worry Foley translates them all to English straight away in the next sentence so no need to get your dictionary out.
"La vois du sang est la plus forte; the voice of blood is the strongest."
A great book just like you expect from Lucy Foley. Highly recommended for the thriller book lovers. Check full synopsis here
What to pair it with:
We loved The Paris Apartment with few things including our favourite thing with books, Organic Coffee for a cafe au lait. But we also enjoyed it with a glass of Pinot Noir from Oakridge one of our favourite wineries in the Yarra Valley.  You can get it in Build Your Own booxies or with Read N' Wine pre-selected booxies box.
Any of these books can be easily enjoyed with a glass of wine from one of our local Australian wineries or with Gin & Tonic from 23rd Street Distillery. Or can be enjoyed with 'Lie To Me' booxies that includes alcohol-free drinks from Lyres and boozy slices from Springhill Farm.
Make sure you sign up to our newsletter to keep updated with all things books and booxies.
Leave a comment