Best Books for Dad This Father's Day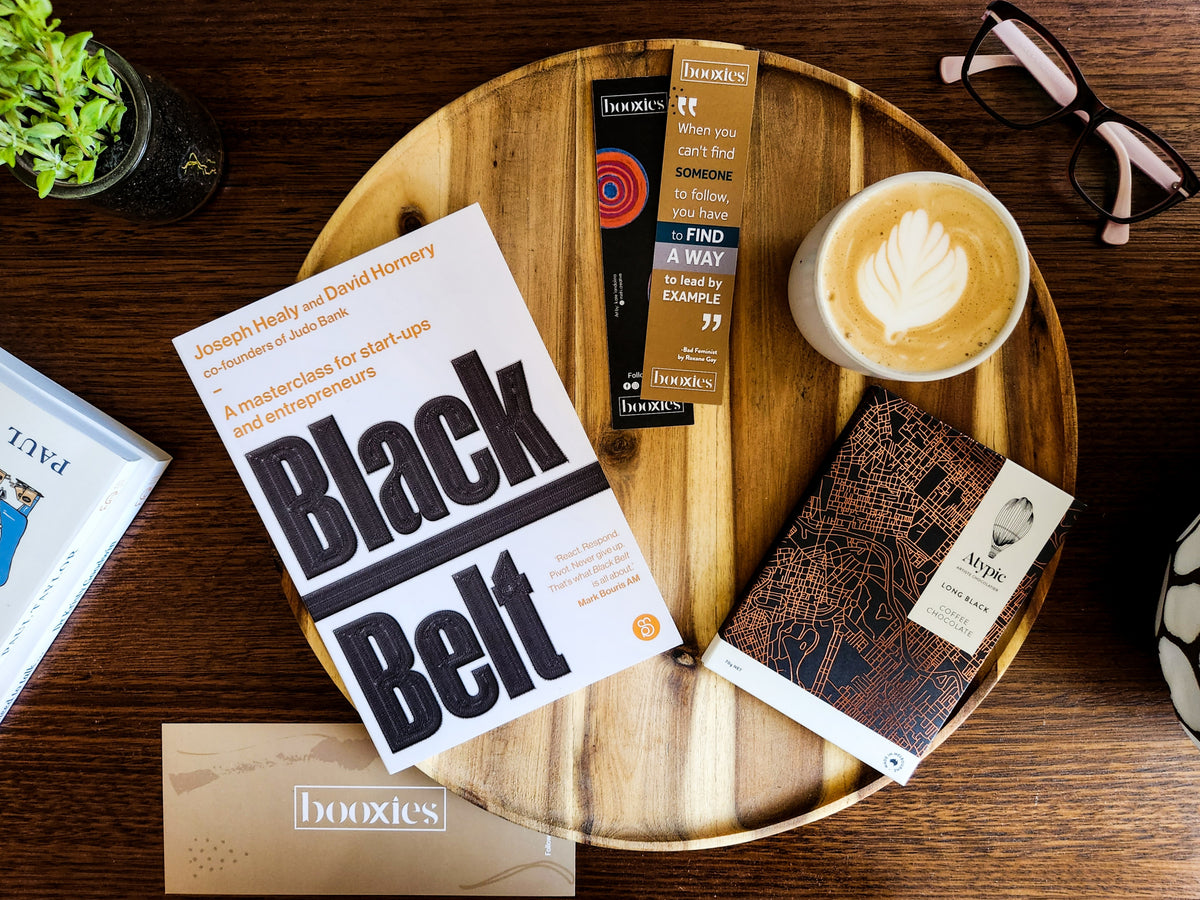 We all know that Dads are not the easiest to buy gifts for. So, here at booxies, we decided to make your job easier by creating a recommended list of Father's Day book gifts that any Dad would genuinely enjoy receiving.
Whether your Dad is into sport books, business books, or biographies, we've got the perfect Father's Day gift for them this year at booxies.
Books for the aspiring Entrepreneurs and Business Minds
This is a Masterclass for startups and entrepreneurs written by the co-founders of Judo Bank.
It's a book that Dad will love as they read Joseph and David's story of what inspired them to start Judo Bank, the planning, launching and scaling up to become such great success against all odds. It is full of valuable practical guides and a must read by all aspiring entrepreneurs.
We enjoyed it with a hot cup of coffee and the delicious long black hand made chocolate from Atypic.
This is the follow-up to bestselling business bible The Lean Startup - taking the startup revolution to all organisations With his million-copy bestseller The Lean Startup, Eric Ries launched a global movement.
Concepts like minimal viable product, A/B testing and 'pivoting' changed the language of business. Now he turns his attention to companies of all sizes - and shows how the startup ethos can breathe new life into even the largest and most bureaucratic organisation.
The Startup Way is an essential read for leaders, managers and entrepreneurs at any level.
Books For The Sports Loving Dads
If your dad is a soccer fan then this is a great book for them. In fact, it is a great sport book for any sport fan.
A great read about how Hillsborough and the Premier League Changed Britain. The story of how modern football has changed from being the people's game to an elite multi-million pound business, and of what it has lost in the process.
And the Sun Shines Now is a book about what happened in the wake of Hillsborough, the most controversial tragedy of post-war Britain. The Taylor Report. Italia 90. Gazza's tears. All-seater stadia. Murdoch. Sky. Nick Hornby. The Premier League. The transformation of a game that had once deeply connected a club to its community, into a global business so rapacious that true fans have been forgotten, disenfranchised. Adrian Tempany deconstructs the past twenty-five years of English football to give us a brutal assessment of the modern game.
Dad is a Footy fan? Who isn't! This book by Eddie Betts is an honest, human and beautiful gift for any dad.
Eddie talks about how does a self-described 'skinny Aboriginal kid' overcome a legacy of family tragedy to become an AFL legend? One thing's for sure: it's not easy. But then, there's always been something special about Eddie Betts.
Betts grew up in Port Lincoln and Kalgoorlie, in environments where the destructive legacies of colonialism – racism, police targeting of Aboriginal people, drug and alcohol misuse, family violence – were sadly normalised. His childhood was defined by family closeness as well as family strife, plus a wonderful freedom that he and his cousins exploited to the full – for better and for worse.
When he made the decision to take his talents across the Nullarbor to Melbourne to chase his footballing dreams – homesickness be damned – everything changed. Over the ensuing years, Betts became a true giant of the sport: 350-plus games, 600-plus goals, multiple All-Australian nods and Goal of the Year awards, and a league-wide popularity rarely seen in the hyper-tribal AFL.
Books For The Dads who enjoy reading Crime and Thriller books
Robotham is one of our favourite crime and thriller authors in Australia and we know Dad would love this one
TWO MISSING WOMEN. ONE WITNESS. SO MANY LIES . . . This thriller by the number-one bestselling and award-winning master of crime
Twenty years ago, Cyrus Haven's family was murdered. Only he and his brother survived. Cyrus because he hid. Elias because he was the killer.
Now Elias is being released from a secure psychiatric hospital and Cyrus, a forensic psychologist, must decide if he can forgive the man who destroyed his childhood.
As he prepares for the homecoming, Cyrus is called to a crime scene in Nottingham. A man is dead and his daughter, Maya, is missing. Then a second woman is abducted . . . The only witness is Evie Cormac, a troubled teenager with an incredible gift: she can tell when you are lying.
This novel is Inspired by the unsolved murders of the Chillicothe Six. It tells the story of two sisters in rural Ohio facing a legacy of guilt, addiction and devastating family secrets . From the bestselling author of Betty.
This was our Crime/Thriller book choice for the month of May as part of our Mystery Subscription Booxies.
Arcade and Daffodil are twin sisters born one minute apart. With their fiery red hair and thirst for an escape, they form an unbreakable bond nurtured by their grandmother's stories. Together they disappear into their imagination and forge a world where a patch of grass reveals an archaeologist's dig, the smoke emerging from the local paper mill becomes the dust rising from wild horses galloping deep beneath the earth, and an abandoned 1950s convertible transforms into a time machine that can take them anywhere.
Drawing from the true story of women killed in Chillicothe, Ohio, acclaimed novelist and poet Tiffany McDaniel has written a moving literary testament and fearless elegy for missing women everywhere.
Books For the Dads who love to dive into a fiction book
This book is one of our favourite fiction books recently. It was our Fiction book pick for January for our Mystery subscription box.
It is a moving story about love, loss and sacrifice. An emotional highly intelligent, strange and sophisticated story that will stay with you for a long time.
The Other Side of Night begins with a man named David Asha writing about his biggest regret: his sudden separation from his son, Elliott. In his grief, David tells a story
"If you lost someone you love, you will know. If not, I envy you your innocence.
It is hard to tell much about the book without spoiling the story. All we can say is that it is a great book that Dad is sure to love as a Father's Day gift this year.
This is a fiction story with cricket in the heart of it! A great one to gift Dad this Father's Day. It's just the perfect Australian novel for Dad.
From the critically acclaimed author of Mr Wigg comes an enthralling literary novel about a batmaker and a gifted young cricketer, set around the time the game began changing. For fans of Chad Harbach's The Art of Fielding and Joseph O'Neill's Netherland.
Cricket has a willow heart. Batmakers around the world have tried everything, crafting bats from birch, maple, ash, even poplars . . . After two hundred years, cricket bat making is still beholden to a single species: Salix alba caerulea - or white willow
Reader Cricket Bats, one of the last traditional batmakers back in England, has a contemporary home in the Antipodes, with Allan Reader keeping the family business alive in a small workshop in Melbourne.
When Todd Harrow, a gifted young batter, catches Allan's eye, a spark is lit and Allan decides to make a Reader bat for him, selecting the best piece of willow he's harvested in years to do so.
To make your book gift to Dad even better, we've perfectly curated booxies to suit different tastes, so no matter what genre of book your dad likes or what his preferred luxuries might be, we've got a gift to match his preferences.
At booxies, our gift boxes are unique and thoughtful Father's Day gifts guaranteed to impress every Dad. They make ideal gifts from sons, daughters, or partners who want that extra special touch.
Our booxies are fully customisable and are delivered throughout Australia and New Zealand.
If you want to customise your Dad's Father's Day gift this year, go with our recommended selection or Build Your Own. The choice is yours. Whether you're planning ahead or leaving this until the last minute, booxies has got your back.
Our simple but thoughtful range of Father's Day gift boxes provides you with the flexibility to add what Dad likes in a Build Your Own Box. You're sure to find the best Father's Day gift for Dad this year at booxies.
Leave a comment