Must Read Books by Asian Authors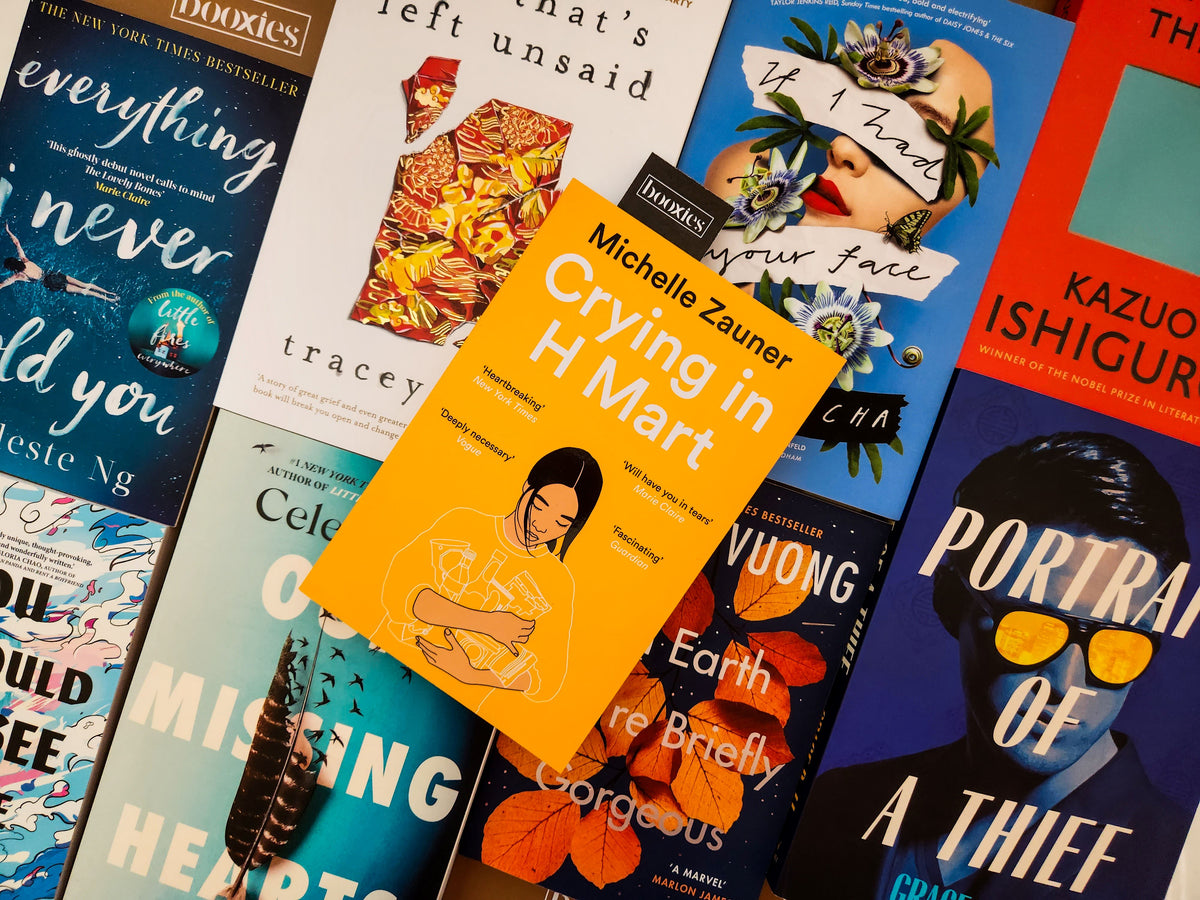 It is almost Lunar New Year and we can't think of a better time to celebrate some amazing books written by amazing Asian authors and authors from Asian background.
At booxie, we love to celebrate and embrace our differences and our cultures and one way of doing so is reading books written by authors from different backgrounds or set in different locations and environment than ours. Check out our stories from around the world genre for some inspiration.
We believe this is a great way to broaden our horizon and expand our understanding of people coming from different backgrounds. and get us to embrace cultural differences, different foods, traditions, celebrations and occasions to enrich our lives.
So let's celebrate some amazing stories written by world class Asian authors.
In this exquisite story of family, food, grief, and endurance, Michelle Zauner proves herself far more than a dazzling singer, songwriter, and guitarist. With humour and heart, she tells of growing up the only Asian-American kid at her school in Eugene, Oregon; of struggling with her mother's particular, high expectations of her; of a painful adolescence; of treasured months spent in her grandmother's tiny apartment in Seoul, where she and her mother would bond, late at night, over heaping plates of food. As she grew up, moving to the east coast for college, finding work in the restaurant industry, performing gigs with her fledgling band – and meeting the man who would become her husband – her Koreanness began to feel ever more distant, even as she found the life she wanted to live. It was her mother's diagnosis of terminal pancreatic cancer, when Michelle was twenty-five, that forced a reckoning with her identity and brought her to reclaim the gifts of taste, language, and history her mother had given her.
This was one of Barack Obama's favourite books of 2021.
A debut novel set in contemporary Seoul, Korea, about four young women making their way in a world defined by impossibly high standards of beauty, secret room salons catering to wealthy men, strict social hierarchies, and K-pop fan mania.
"Even as a girl, I knew the only chance I had was to change my face... even before a fortune-teller told me so."

Kyuri is a heartbreakingly beautiful woman with a hard-won job at a "room salon," an exclusive bar where she entertains businessmen while they drink.
Her roommate, Miho, is a talented artist who grew up in an orphanage but won a scholarship to study art in New York.
Down the hall in their apartment building lives Ara, a hair stylist
And Wonna, one floor below, is a newlywed trying to get pregnant 
Brilliant, heartbreaking and highly original, Ocean Vuong's debut novel is a shattering portrait of a family, and a testament to the redemptive power of storytelling.
This is a letter from a son to a mother who cannot read. Written when the speaker, Little Dog, is in his late twenties, the letter unearths a family's history that began before he was born. It tells of Vietnam, of the lasting impact of war, and of his family's struggle to forge a new future. And it serves as a doorway into parts of Little Dog's life his mother has never known - episodes of bewilderment, fear and passion - all the while moving closer to an unforgettable revelation. 
It's a dystopia novel that is written so so beautifully
"May you see tomorrow, she said. And if you do, I beg you forgive us."
A story in a world that is not exactly ours but not far from it which is very scary. A story that we perhaps heard in different ways before but never enough. A story about how we turn blind eye and justify unjustifiable actions for political agendas.

A story about the unbreakable bond between a mother and her son who get separated by PACT (The Preserving American Culture and Tradition Act)
a story about love, loss, hope and sacrifices.

" Once upon a time, there was a boy. Once upon a time there was a mother. Once upon a time, there was a boy, and his mother loved him very much."
Kim Jiyoung is a girl born to a mother whose in-laws wanted a boy.

Kim Jiyoung is a sister made to share a room while her brother gets one of his own.

Kim Jiyoung is a female preyed upon by male teachers at school. Kim Jiyoung is a daughter whose father blames her when she is harassed late at night.
Kim Jiyoung is a good student who doesn't get put forward for internships. Kim Jiyoung is a model employee but gets overlooked for promotion. Kim Jiyoung is a wife who gives up her career and independence for a life of domesticity. 
A great read talking about inequality, discrimination against women and mysogony in Korea.
This book was nominated for the Goodreads book choice award for Young Adults Fantasy & Science Fiction.
In this genre-bending YA debut, a Chinese American girl monetizes her strange new invisibility powers by discovering and selling her wealthy classmates' most scandalous secrets.

Alice Sun has always felt invisible at her elite Beijing international boarding school, where she's the only scholarship student among China's most rich and influential teens. But then she starts uncontrollably turning invisible—actually invisible.

When her parents drop the news that they can no longer afford her tuition, even with the scholarship, Alice hatches a plan to monetize her strange new power—she'll discover the scandalous secrets her classmates want to know, for a price.
A powerful book! it's a tragic story that talks about the struggle, racism, social discrimination, stereotyping, inherited trauma and the enormous pressure migrants and refugees face.
A story sets in Cabramatta- a suburb in Sydney- in the 90s where we had the worst heroin epidemic in Australian history.

The story follows the Tran family who came as refugees from Vietnam after the war. Working hard trying to give their two kids all the opportunities they didn't get. But they never thought in a million years that they would one day get the news that their brilliant son Denny got murdered after his high school graduation. Just when he was about to start his life.

It's a great book about grief, family, home and belonging. Heartbreaking and beautifully written
So begins this exquisite novel about a Chinese American family living in 1970s small-town Ohio. Lydia is the favorite child of Marilyn and James Lee, and her parents are determined that she will fulfill the dreams they were unable to pursue. But when Lydia's body is found in the local lake, the delicate balancing act that has been keeping the Lee family together is destroyed, tumbling them into chaos.

A profoundly moving story of family, secrets, and longing, Everything I Never Told You is both a gripping page-turner and a sensitive family portrait, uncovering the ways in which mothers and daughters, fathers and sons, and husbands and wives struggle, all their lives, to understand one another.
So beautifully written. So moving and heart breaking. So necessary.
in an attempt to take back what colonialism has stolen, 5 college students from Chinese background plan to reclaim stolen art from The Old Summer Palace in Beijing which is jn display in 5 different museums across the Western Word. If they succeed, they earn $50 million dollars and a chance to make history

But the book is not about the heist itself. It is a story about being part of two different cultures. A story about wanting more and wanting to do the impossible. A story about dreams and ambitions and reclaiming what's been wrongly taken in the past.. but most importantly a story about growth, belonging, family, love and friendship

"Twenty years, and she was used to being asked where she was from, to giving an answer that felt like a lie. She could never be Chinese enough for China. She could never be American enough for her."
Check out our full range of books here and if you are looking for a unique gift this Lunar New Year, we got you covered at booxies.
At booxies, we have a range of curated gift boxes that can work for many occasions from birthday gifts, anniversary gifts to get well soon and thinking of your gifts. including Lunar New Year gifts. So if you are invited to celebrate Lunar New year with some friends or family this year, and unsure what to bring with you, why not get a booxies gift box with a beautiful book written by an Asian author, red wine and some delicious hand made chocolate. Booxies gift boxes are guaranteed to bring a smile to your loved ones' faces.
Leave a comment