Conversation With Alli Parker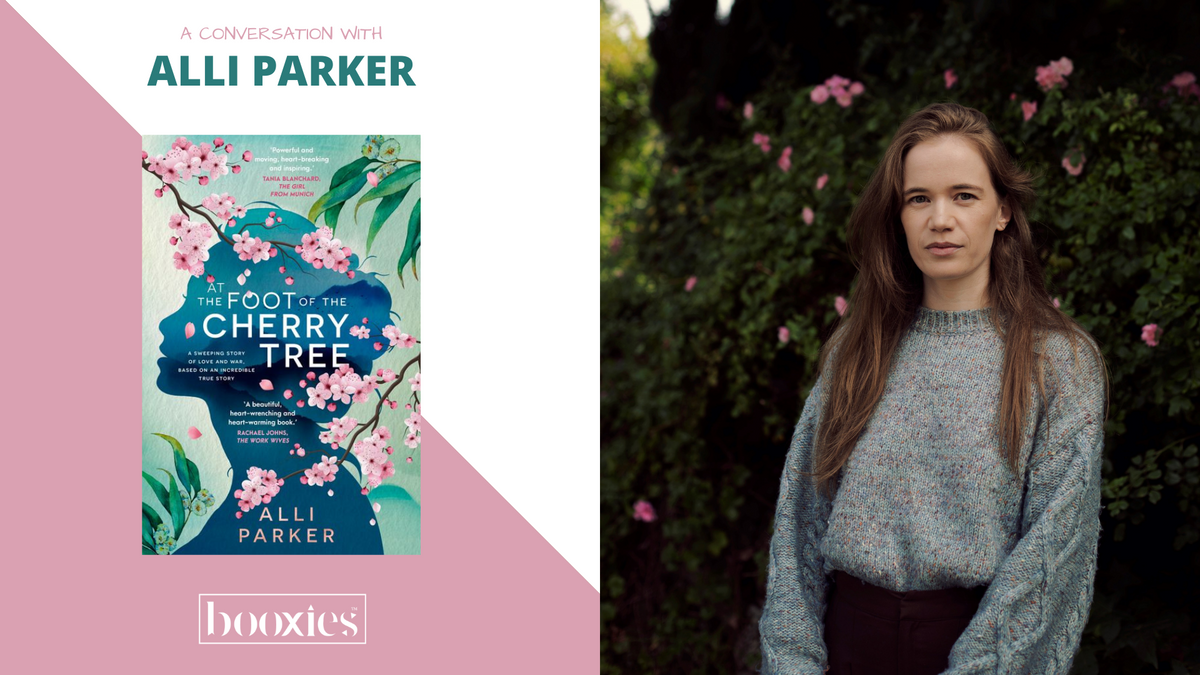 We LOVE At the Foot of the Cherry Tree by Alli Parker and we feel so lucky to be able to get our hands on signed copies by the author.
At The Foot of The Cherry Tree is our Fiction book pick for September Mystery Booxies which our readers are loving and raving about.
It's been such an priviliege to meet Alli and to be able to have a quick conversation to learn more about her debut novel At The Foot of The Cherry Tree,  in addition to few things about Alli.
Can you describe your new book 'At the Foot of The Cherry Tree' (your elevator pitch)?
[AP] At the Foot of the Cherry Tree is a novelisation of the true story of Australia's first Japanese war bride and is actually the story of my grandmother. My grandfather, Gordon Parker, served as part of the Occupied Forces helping to resettle Japan post-WWII. On his first day there, he met Nobuko Sakuramoto, otherwise known as Cherry. Despite strict anti-fraternisation rules between the Australians and the Japanese, the two of them became friends and fell in love. As Gordon's service comes to an end, he decides he wants to bring Cherry back to Australia as his war bride. It's then he realises  that the White Australia policy won't let Cherry into the country as she's from a non-white, non-European background. So Gordon returns to Australia and begins campaigning the government to change their policy and allow Cherry and their first two daughters, who were both born in Japan, to come home.
Can you share with us something about your grandma Cherry that was not mentioned in the book?
[AP] Grandma taught me origami. She was always so good at making paper cranes. I remember once she made me one out of dark blue wrapping paper with stars on it. It was huge! She loved giving gifts and you would never leave her house without something pressed into your hand - whether lollies, some Japanese paper art, or a seaweed cracker.
The story has a very powerful chapter about important historical moments in Japan and pretty much the entire world. Was writing that chapter hard? Did you get your grandma to share her feelings and emotions about that day in Hiroshima?
[AP] The formidable chapter nine was so incredibly difficult to write. I write chapters fairly quickly, I can get through a chapter in two days or so, but that chapter took me two weeks to write. Initially, I hadn't planned to go quite as in depth into my grandmother's experience. To be completely honest, I was scared to write it. And I knew my grandmother's story of surviving Hiroshima, to a point. But when I started writing the chapter, I realised I couldn't shy away from it and, to honour that experience and what my grandmother had gone through, I had to go through it and put my readers through it too. But my grandmother didn't like to talk about it and I didn't want to press her on it. Fortunately, enough other members of my family had heard different parts of the story over the years too and I was able to reconstruct it from those shared anecdotes.
We know the novel is based on true story. How much of the novel is fictional?
[AP] Incredibly, most of the story is true. The biggest fictional elements are the supporting characters, generally, but even then, the characters and their subplots are based on real stories that happened to other soldiers or Japanese women. And then there's the fictional element of writing a book itself - the dialogue is obviously fictionalised as I don't really know what my grandparents ever said to each other in every conversation. So there are big chunks that are true, other parts that are based on events that happened to other people, then there are other sections which are educated guesses based on heavy research.
What's your favourite Japanese place/city? And why?
[AP] My favorite Japanese city is a tie between Kyoto and Hiroshima. My family is from Hiroshima and it's such an incredible place that has had a huge impact on me in a number of ways. Kyoto is just stunning, a place where you can absolutely lose yourself in history. Kyoto feels like walking through the pages of a novel.
What's your favourite recent read?
[AP] I've been reading so many incredible books lately. I loved Crushing by Genevieve Novak, as well as After Story by Larissa Behrendt. The audiobook was an amazing listen!
What's your favourite snack/drink while reading or writing?
[AP] I'm a chronic snacker! I always have a cup of tea and my emotional support water bottle in easy reach when I'm writing. And it's not a writing session for me without M&Ms. Crunchy, chocolate, peanut, I don't mind, but they help me focus!
If you could invite a celebrity to dinner, how would that be and why?
[AP] I would absolutely love to have dinner with R.F. Kuang. Her books are incredible and I am in awe of how she tells a story. The Poppy War trilogy is an epic example of how not to shy away from the worst of humanity, Babel is a structural masterpiece, and Yellowface is a masterclass in how to manipulate your reader emotionally. I have no idea what I would cook but I probably wouldn't be eating. I'd just want to talk to her about everything.
AddAt The Foot of The Cherry Tree to your tbr list or get one of the limited signed copies right now with your favourite Aussie drink or snack. We enjoyed the book with a cup of lemongrass ginger tea from TeaDrop in winter.
Build your own booxies book box or get one of our curated booxies like Watch It Grow if you like to enjoy your book with a cup of tea and herbs or flowers to grow i your garden this spring while reading your book, or get it with one of our most popluar curated booxies Read N' Wine if you like to enjoy your book with a hand picked wine from one of our favourite wineries paired with chocolate for a better reading experience!
--------------------------------------------
About The Author
Alli Parker is a Japanese-Australian author and screenwriter, with a background in script editing and script co-ordinating. She lives on the stolen land of the Wurundjeri people of the Kulin Nation. In 2023, she published her debut historical fiction novel At The Foot of The Cherry Tree. a novelisation of the true story of Australia's first Japanese war bride and Alli's grandmother. She co-wrote episodes of crime drama series Jack Irish, romantic thriller series Secret Bridesmaids' Business and mystery telemovie series Ms Fisher's Modern Murder Mysteries. In 2020, she began running note-taking and script co-ordinating workshops to train others in these roles.
Leave a comment