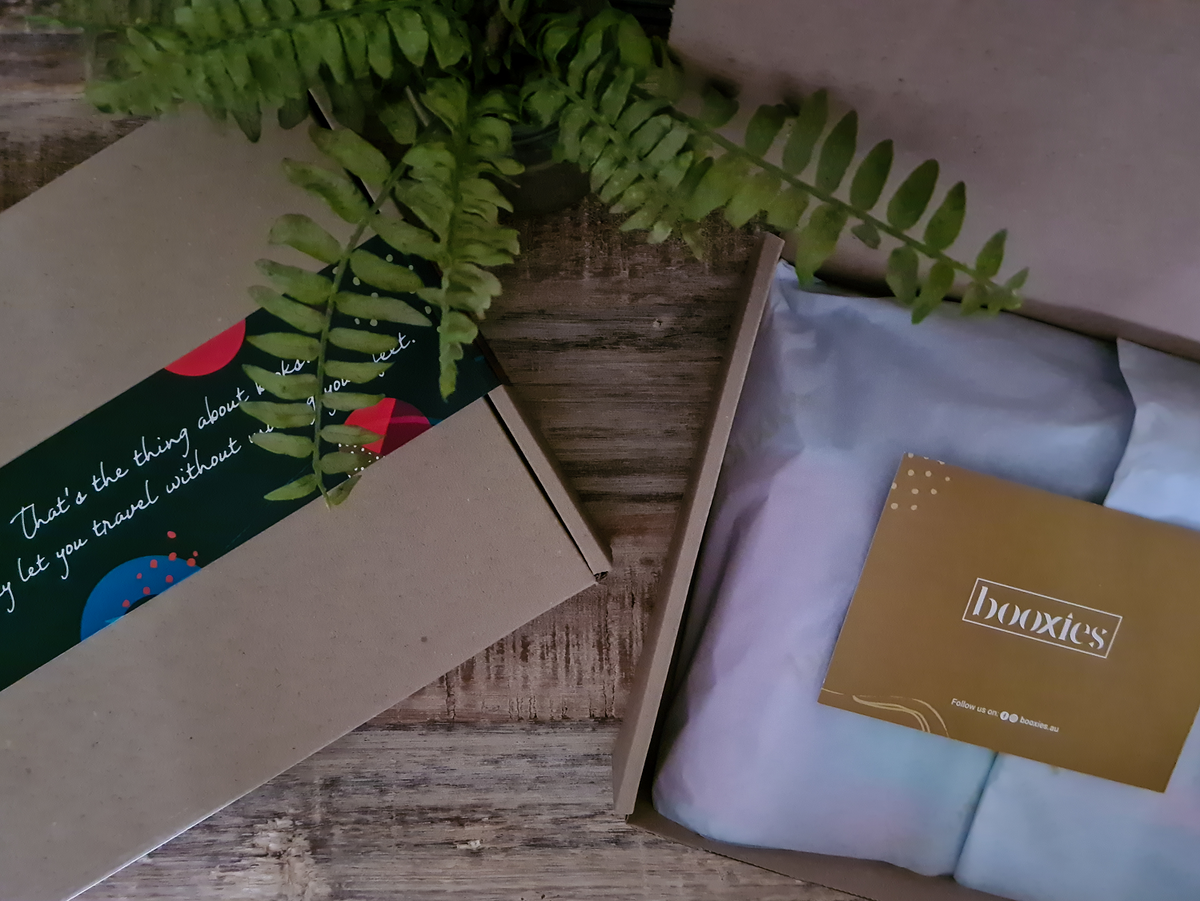 Mystery Booxies is a monthly or bi-monthly book subscription box that sends you a surprise book based on your preferred genre. We spend a lot of time and go through extensive list of books to select for you a great book from each of our main five genres including Fiction, Romance, Thriller, Non-Fiction and YA to send to you in a beautiful Mystery Booxies box, together with hand picked Australian Product to enhance your reading experience.
If you are a book lover who loves to discover new books, then Mystery Booxies is the perfect subscription box for you. With Mystery Booxies, you will never know what book you will receive, but you can be sure that it will be a great read.
This month, we selected for you:
Fiction Book of the month
I Have Some Questions For You by Rebecca Makkai, This is a lyrical mystery masterpiece by the author of The Great Believer, the finalist of Pulitzer Prize and The National Book Award. A transfixing mystery and a deeply felt examination of one woman's reckoning with her past.  Bodie Kane is a successful film professor and podcaster that is happy to forget her past which is include a family tragedy and many miserable years in New Hampshire boarding school which is where the murder of her former roommate happened. 
Romance book of the month
Duck a l'Orange For Breakfast by Karina May Who doesn't love romance and French food. This book has all the love and food you will ever want in a novel. It is full of delicious recipes added at the end as part of 'Fork Him' project which starts as a joke but soon transforms into something more meaningful as Max undergoes brain surgery. Get your copy and you won't regret it.
Non-Fiction Book of the month
The Perfectionist Guide To Losing Control by Katherine Morgan Schafler. A path to peace and power. When you say a book endorsed by Susan Cain, Deepak Chopra, and Lori Gottleib you know you are in for a treat. and we were not wrong at all with this book. In The Perfectionist's Guide to Losing Control, psychotherapist Katherine Morgan Schafler says you don't have to stop being a perfectionist to be happy and fulfilled. Her smart, witty book is a new approach for women who are over the generic advice to 'find balance'.
We love the self-assessments and actionable advice tailored to every different type of perfectionist. Perfect for all the women who want more of this life.
Crime/ Thriller Book of the month
All The Dangerous Things by Stacy Willingham. We love Stacy Willingham and loved her previous novel A Flicker in The Dark so it was no brainer that we were going to pick her new thriller book for our April Mystery Booxies. It's a gripping, fast paced thriller that will keep you guessing until the end. Willingham touches on the very important subject of postpartum psychosis and depression, and talks about the complex emotions of motherhood that nobody talks about. 
"Nobody understands what it's like to be locked inside the mind of a mother. The things you think that you aren't supposed to' the beliefs that burrow themselves deep into your brain like a parasite, making you sick."
YA Book of the month
The Quiet and The Loud by the award winning author Helena Fox. This is a novel about the contours of friendship, family, forgiveness, trauma and love that explores the stories we suppress and the stories we speak - and the healing that comes when we voice the things we've kept quiet for so long. 
This month felt like we are truly in Autumn so we decided there is nothing better to help us get over the winter or autumn blues more than chocolate. So we selected a delicious hand made chocolate from Melbourne Do Good company Hey Tiger that it will be very hard not to finish in one go. We added a variety of Vegan dark chocolate to sweet caramel and popcorn milk chocolate.
and as usual, we almost always include sparkling water from Calm & Stormy. This month we included a Pink Lady Apple sparkling water, and of course 2x tea pyramids from Melbourne's Teadrop tea.
Needless to say, we always include one of our signature bookmarks with every subscription Mystery Booxies or Boxless Booxies you receive. 
Our Mystery Booxies are available online as one-off purchase, ongoing month to month subscription without any lock in contract,  3 months prepaid option which would make a great gift idea for any book lover that will stretch for a little while. this is the gift that will keep giving and it is the perfect gift for Mother's Day. This will make Mum thank you every month for a while. Priceless!
We recently introduced 6 and 12 months plan with our subscription boxes. We are giving you your first box with 25% off full price and 16% discount ongoing for the rest of the year. That equates to more than 2 FREE MYSTERY BOOXIES per year! Great deal that you should snap now.
And if you like to enjoy the books without the fuss, we have a monthly and bi-monthly boxless subscription option that include great discounts to equates to more than 2 FREE BOOKS per year. We love this one too!
And if you like to win a FREE MYSTERY BOOXIES - who doesn't ! head to our giveaway page and enter your details for your chance to win monthly prizes while staying updated with all booxies things.
Leave a comment